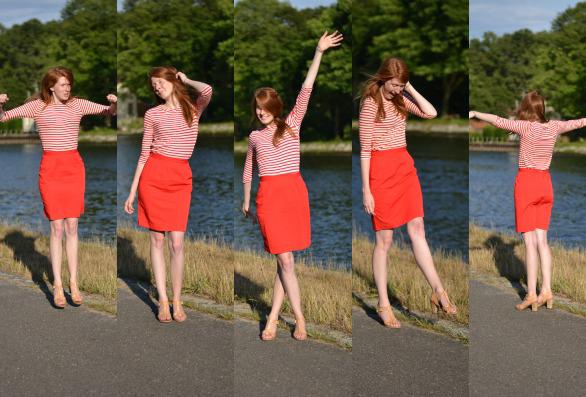 Vintage pencil skirt • Striped tee by COS • Christian Di Riccio sandals 
I was in Venice earlier this summer, and being in Venice inspired me to create this outfit. All I need more is a straw hat and a gondola really. My red pencil skirt hasn't gotten much wear during the heatwave we experienced throughout July and early august, but it's back in full action now that the temps have dropped to the lower 20s again. I just love to wear this thing!
As I've been doing this style-blogging-thing for over 2.5 years now, I thought it was time you guys got a glimpse of what outfit shooting for me really looks like. When we go out to shoot an outfit, we usually take about 100-140 photos because I either am unable to come up with different poses or because I come up with way to many (awkward) different poses. Jumping krisskross-style, striking glamorous poses and fighting heavy wind blows is part of the warming-up routine. And of course, my photographers always like to document these funky moves… . Yeah. Not cool guys.
These photos were taken right after L and I enjoyed dinner on the pancake boat. pancakes and a scenic view? Yes please! I treated my taste buds to a warm blueberry jam pancake with three scoops of vanilla ice and  a whipped cream topping. It was sooooo good, apart from the fact that my stomach couldn't really handle having dinner on a boat. I got so nauseous, that I needed a short walk along the quay afterwards to get a little relief. Since the scenery around the canal was so perfect and my headache was lessening fast, I couldn't help but bring the camera out and get a few photos of my Venetian outfit for the blog. I hope you enjoy these happy outtakes as much as I did when I saw them first in my Photo Viewer.
Happy Monday!