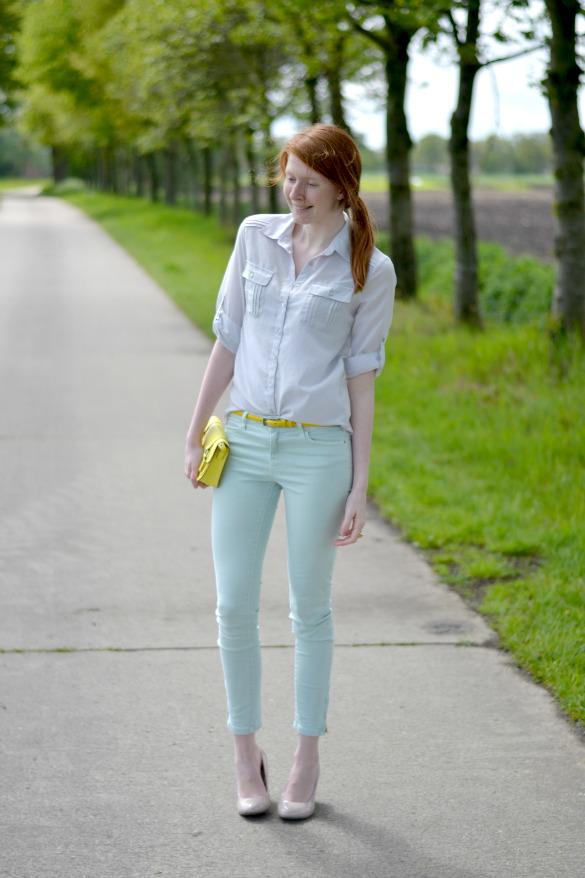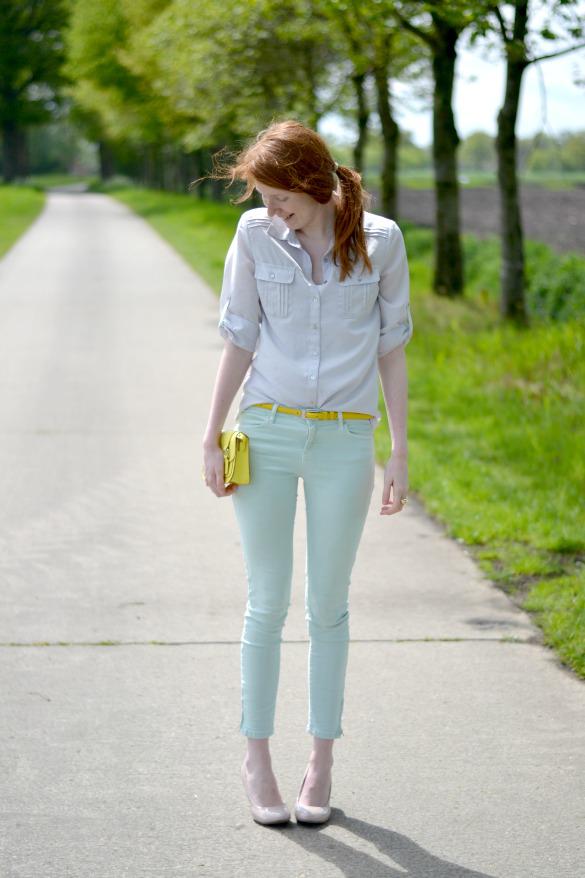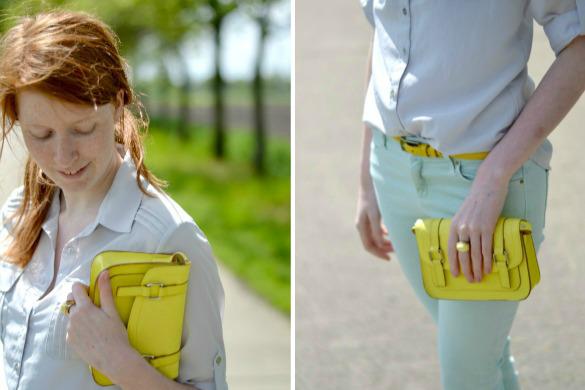 H&m shirt • Zara jeans • Old navy bag • H&M ring • Pieces belt
The reaction of my co-worker when I bought this silver-y shirt from H&M two years ago was enough for me never to wear it. Until this weekend. When It was rainy and windy and cold and I should have gone for something that was way more weather appropriate. I do stupid things. But I just love how the outfit came together, rain or no rain. I had this outfit planned in my head since last summer (and I actually have proof of that), but just when I knew how I'd style this grey shirt, the seasons switched and my mint jeans ended up on the bottom of my three pairs high pile of colored jeans.
I can't come out of my words again. So I'm going to inform you on some rather big happenings in this young life of mine. I had a rough few days at my internship this week. With only two more weeks to go the goodbyes have started. It feels weird to tell people they won't be seeing me around anymore when they shout "see you next time!" before they head out. I've been part of the team for nearly 4 months and I got the feeling that people were starting to get used to having me around, and now my time there is up. I wish I could stay, but I'm going to uni full-time after summer and seeing the schedule I know I could never combine that with a full-time day job. I think I've finally decided on my Masters by the way. Sociology with a master in social care & welfare and a minor in labor. I choose the university of Antwerp because I fell in love with the city's atmosphere. And maybe because K studies there as well. Just maybe. I am currently contacting stalking dorms and estate services for a room / studio for the next two years. I'll be living "on my own" and I couldn't be more excited, yet freaked out at the same time.
Lastly, I can also inform you that I successfully handed in my thesis on Tuesday after I battling Word 2010 for nearly 4 hours. Extremely frustrated I was, but it felt ooooh soooo gooood at the same time. Now I have one year of peace, and then I'll have to write another one. For my masters. I brace myself.
Sorry for my massive over-tweeting about it all and I wish you guys an awesome weekend!