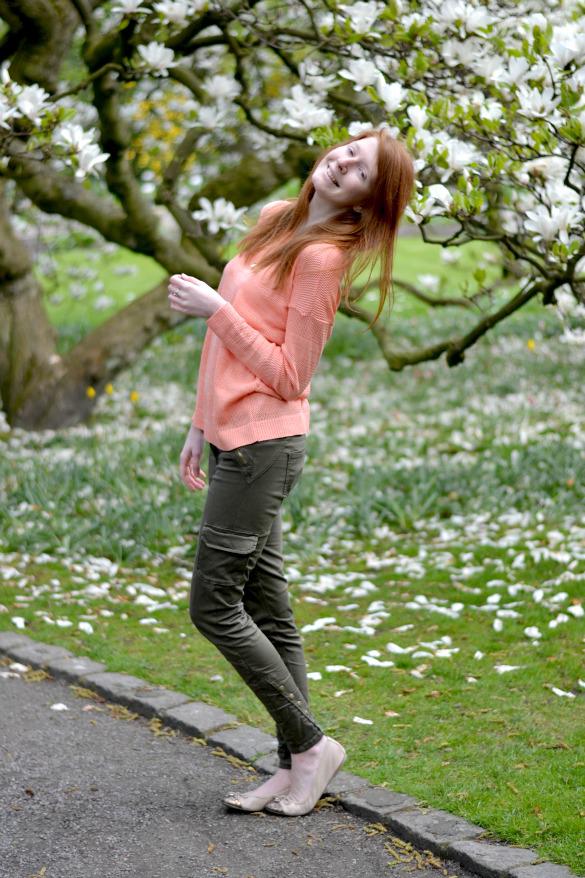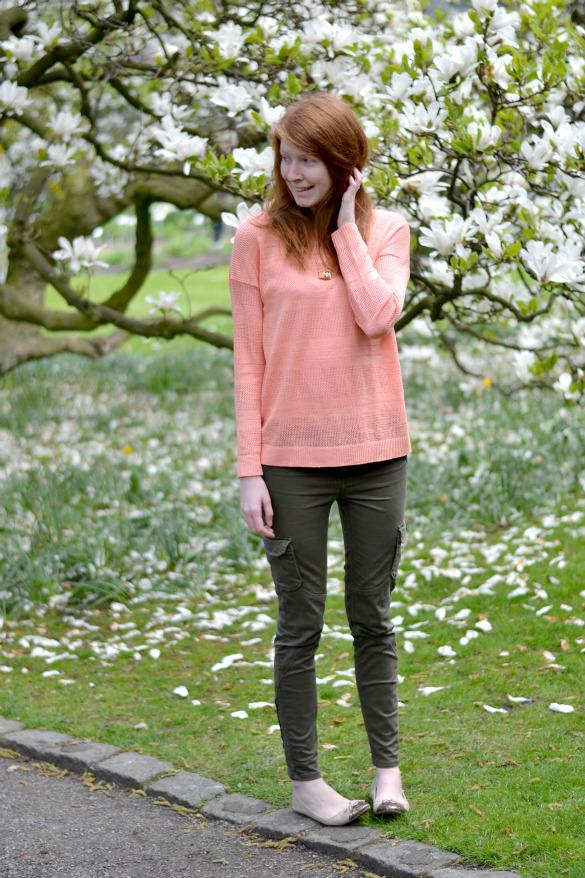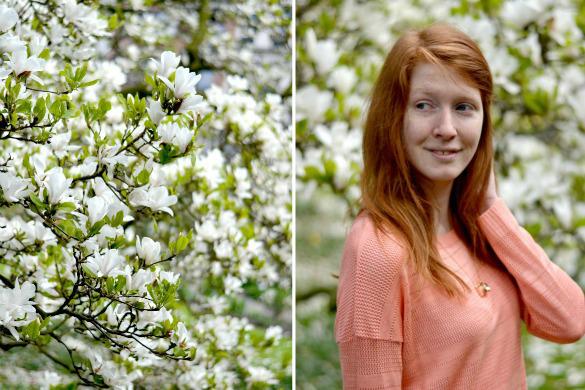 Forever 21 sweater • Zara cargo skinnies • Scapa flats (birthday present from my mom) • Six necklace (birthday present from a dear friend)
A little while ago I posted a series of photos I made in the antwerp city gardens. If you remember the post, you might also remember the amazingly huge, blooming magnolia tree that was standing tall in some of the photos. If you know me or have been reading my ramblings for a while, you could have seen this post coming. Bloggers love magnolia trees (evidence: this post & 1 & 2). So I felt right at place posing uncomfortably next to it as way to many people were walking by. I waited a while to post the photos, eventhough I love them, because as you can see I am wearing my cargo skinnies again. I can't help it, but they're so comfy (stretchy fabric!) and because olive is a (semi-)neutral they go with every top, sweater or tee that I have. I'll try to be good and not wear them for a while. All this washing is making their color fade. They're only from Zara and the quality of Zara's jeans is not always that good. Anyway.
I owe you guys a big hug and a thank you for your supportive words on my thesis. I know I've been a bit of a maniac tweeting about it (sorry!), but the deadline is Wednesday so bare with me for two more days and then I'll be all sunshine and happy dances again. I'm actually completely finished with the written part, except for a little part of what I had to re-write. I have an appointment with the organisation involved tomorrow morning so we can clear everything up and so I can re-write the last two pages. But when that's done I can hand this thing in! Soooo looking forward to that!
Hope you guys had a fantastic weekend and wherever you are, I hope you're having lots better weather than I have. Seriously dudes, it's May! Why is there so much rain and 8°C temps? WHY?
Adios.