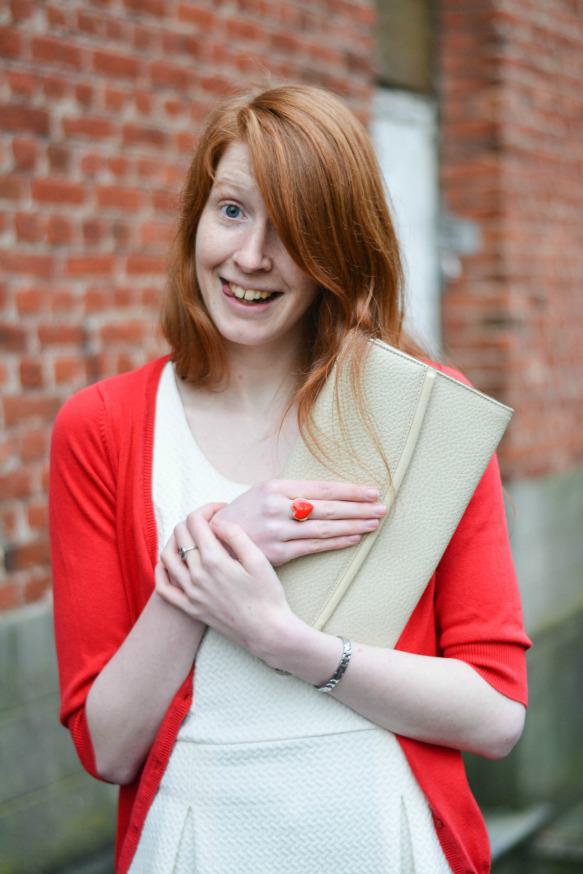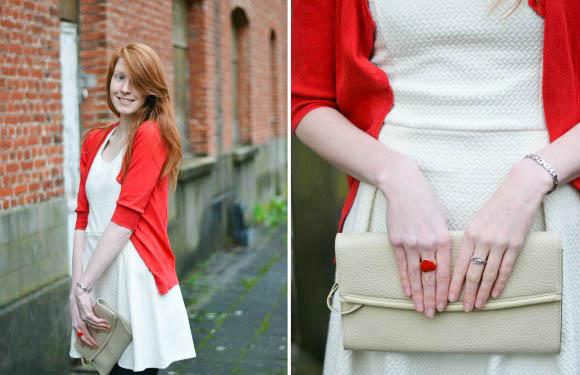 Springfield dress // Zara cardigan // vintage clutch // F21 red heart ring // Silver heart ring: gifted // Swatch watch // Boo shoes
Hello there! Remember this face? It feels like forever and a day ago that I sat down, relaxed and typed a sentence or two here on The Ginger Diaries. Maybe you remember that I told you the past week was going to be an important one for me. Monday was the first day of my new internship (awesome!), Tuesday I had my drivers test (fail!), Wednesday I got my grades back (awesome!) and on Thursday I went to a bloggers event (awesome!). In between all that I wrote a few papers. Applying the simple rules of calculation, I'd say my week was prrrretty epic. Too bad that all the work that needed done kept me from enjoying any me-time. I was completely drained by Friday. Now that this college kid has settle into her new 8 to 5 job and has created a better planning, I hope to end the next week a little more energized.
It's the day of romance this Thursday. Are you guys doing anything special this year? My boyfriend and I usually don't celebrate our love that day, as it is impossible for us to see each other during the week. I'm a bit bummed about it because the abundance of pink hearty stuff on Pinterest and other blogs has gotten me in a romantic mood.
Furthermore, I thought I'd so some SEO and give my post a title with the most effective search term in my blogs list of google terms. The question "can redheads wear red?" has gotten me more hits than Disneyland and hot ginger girls. That last one creeps me out. Putting it on the blog is probably not such a good idea.