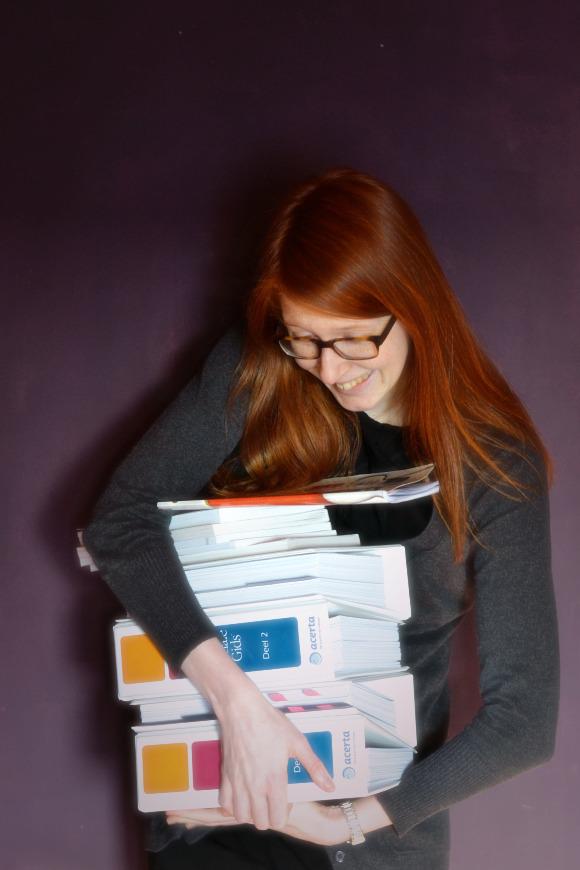 Meet my college books. Books, meet these lovely people! All of their content is safely stocked on the hard disc that is my brain. The thing about college books is that they are really expensive. And it's hard to sell them off to students from the next years, as the teachers always find a way to tweak them a little for the next school year. A lot of these books have never even been used. See those four binders? Only two turned out to be relevant, meaning I wasted more than a hundred dollars on them. I can't sell them. I can't update them without an expensive subscription. One hundred dollars, that's the price of a mini trip to Paris or a high quality new bag. Auwtch.
Talking about College, just quickly throwing this in between this post here, I just received the grades from my exams! Guess what!? My degree in Social Work just got one big step closer! I passed them all! Who's in for some pie to celebrate!? I'm in a good mood now!
I was contacted by the sweet people behind Campus Book Rentals to promote their services to you today. Their concept is basically GENIUS. Even though they are based in the United States, and my text books are written by my own professors and therefor can't be found online, I really wanted to point out their services to you. Because I know how big of a bite college takes from your savings and because I hope that I can save you the money you need for that trip to New York you've been dreaming of ;). It's simple really. You can rent textbooks online, and return them for free at the end of your year or semester. This way Campus Book Rentals helps you save money. They also asked me to specifically point out they you are allowed to highlight in their books. Which is probably the best perk of all! And if you, like me, have old textbooks laying around you can check if they are on the list of their Rent Back project. If they are, you may ship them to CBR and they rent the books to other students for you. That way or old books can actually help you earn back your money.
For every textbook rented they donate to Operation Smile. Operation Smile is a medical charity organisation that helps fund cleft lip surgeries for children in families who could otherwise not afford it. Worldwide. These surgeries heal the smiles of young boys and girls, changing their lives forever. When I was little, there was a young boy in our school who was born with a cleft lip. In fourth grade we all had to make a presentation about a life changing event. As most of us talked about the birth of a younger sibling, he told us about how he was bullied at his old school and how the surgery changed the way he looked at himself. I remember all the girls crying and all the boys turning quiet. It was until today one of the best presentations I've seen.I haven't seen this boy since we all left for highschool, but I still think about him every now and then.
This was, as was probably very obvious, a sponsored post. I received a small payment for writing this post that I used to partially pay for the printing and bundling of the first part of my thesis. This way Campus Book Rentals was able to help me with my studies too! As a college student I thought this post was fitting and the opinions I gave in this post are my own. If you have any questions or concerns feel free to comment or email me!