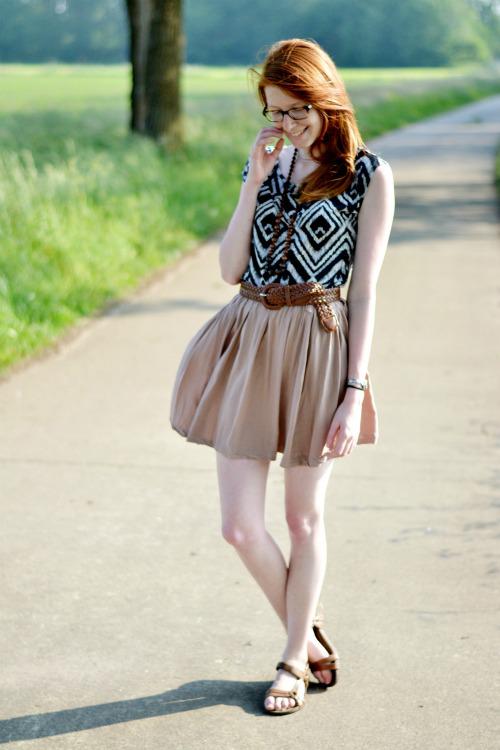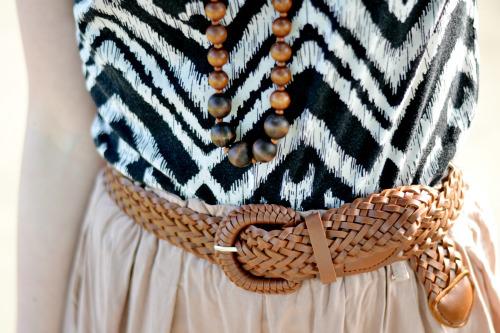 H&M top, F21 skirt and belt, Teva sandals, Six necklace
*Yawn*. I just came back home after my third exam in three days. I'm exhausted, but found the energy to vacuum my bedroom and clean up the mess I made the past few days. My desk was a "studential" distaster: cheets of paper, books, empty coffee mugs and candy wraps everywhere! Now I'm ready for a night of relaxation, before I start studying Economics in the morning. The exam is on Saturday, so that means I have a full day to study the mesmirizing small summary (only 11 papers, yay!). Glorious!
About the title of this post… I found a little note in my mailbox the other day. In between all the spam and account updates there was an email with my last name in the subject line. Weird! I opened it, and got overly excited when I found out who it was from. It was from one of my nieces, who had stumbled upon my blog that morning and who has been blogging since the early days of 2007. You know that feeling when you find out something totally unexpected and fun? Like when you are 5 and your mom tells you you're going to Disneyland? That's the feeling I got! What's even better is that there's actually three of us now! I have another niece, also from my dads side, who's a photographer. I believe it's safe to say: blogging runs in our family! Cool!
Much love,
Nikki