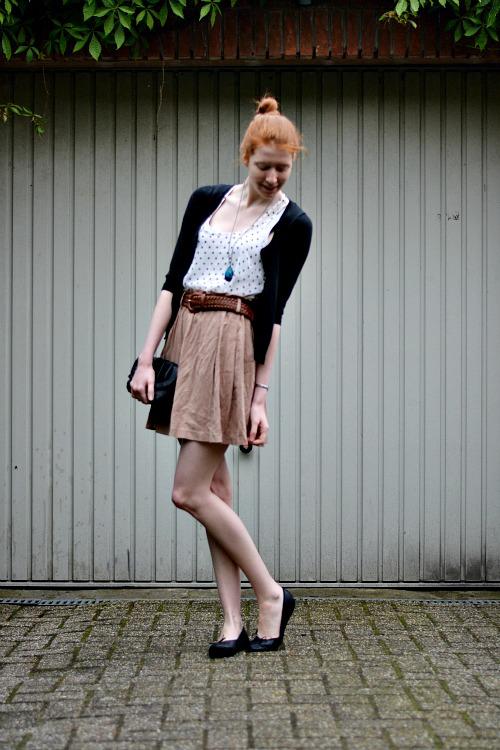 Wearing: F21 skirt and top, Zara cardigan, H&M flats, Promod purse, SIX necklace
Hi sweets! I have one photo to share with you all today! Actually, I took about 48 on my driveway this afternoon with my new 50mm lens. Turns out, that it really is impossible to make your own photos with that lens and self timer. I was out of focus in the other 47 photos… . Are there any pro's out there? I really could use some advice, haha!
Wondering why I tried self timer in the first place? Well, exams are coming up for us Belgian students and that means all my usual photographers are busy studying. Like I should be right now. I've spend the last 4 hours reading through and summerizing my Psychopathology book and it's been quite the heavy read. I was in need of a break and really wanted to show you guys this outfit because I LOVE it! Alas, the photo doens't do it any justice so I'll try to schedule a real shoot in the weekend, haha.
I know I currently am on a no-buy, but does it count when you shop with a giftcard you recieved? I shopped wisely and got (amongst other things) this beautiful flowy skirt with belt from forever 21 in beige and in a pretty berry pink. They were exactly what my closet needed! They are multi combinable and will definitely be included in my 30×30. Didn't I tell you yet? I'm starting a 30×30 on Go chic from June 1st! I plan to do a recap post on here at the end, but if like to follow along the process you can follow me
here
!
Happy humpday!
Nikki