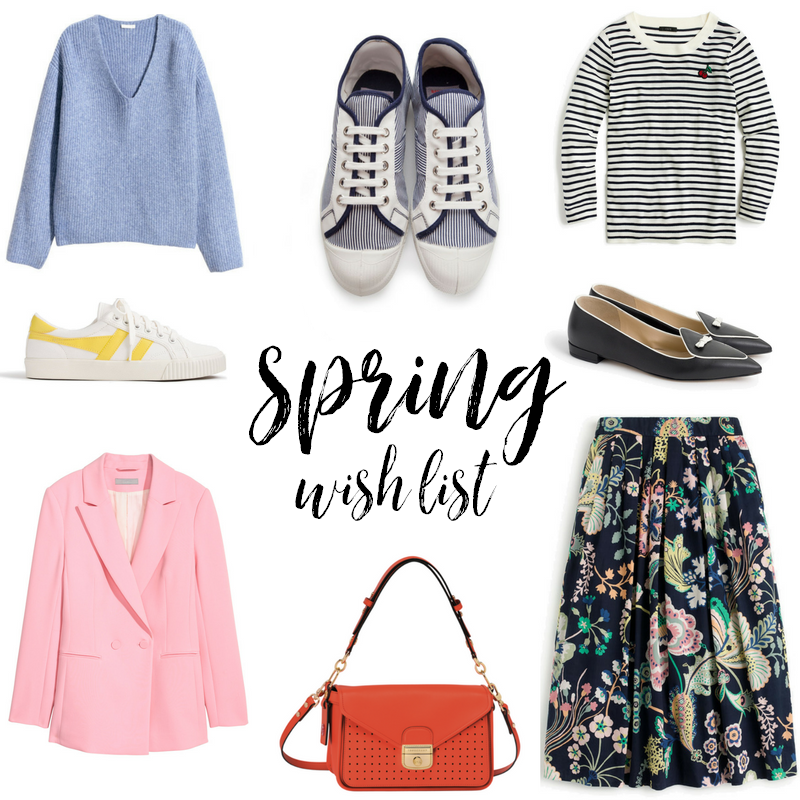 I'm done with dark colored clothes.
I'm done with the static electricity that my wool knits cause when they rub against the polyester lining of my winter coat.
I'm done with bomb cyclones and polar vortexes, however cool they may sound (pun intend).
I never though I'd say this, but I am longing for the scorching 44°C we had in Sevilla last summer.
I am that done with winter.
A few days ago I found myself scrolling through the new arrivals pages of my favorite retailers. Seeing all the colorful blouses and floaty dresses got me really excited for Spring! J.crew in particular has put me in a good mood with its perfect floral prints. I also spotted a pretty periwinkle blue sweater at H&M and got convinced that I cannot live on without it. Bensimon sent me a press release with their new line of canvas tennis shoes and I am smitten with the fine striped ones. The more I scrolled through online shopping pages, the more I could sense sunshine on my face. I felt an immediate urge to purge my wardrobe and fill it with light and airy summer-y things. Thankfully I resisted, because reality hit me in the face in the form of ice cold polar vortex winds the next morning.
So, I'm currently still wearing dark colored knits, my polyester lined coat that induces more electricity than a windmill park and two pairs of socks in winter boots. I top my fashionable winter off with a worn out Zara scarf and a fleece lined pompom hat that ruins my hair even on the nicest of hair days. Dressed up in all those cozy layers, I made my way to the nearest H&M after work today and bought that pretty periwinkle blue sweater. Because even if it's -10°C outside today, spring is on its way!