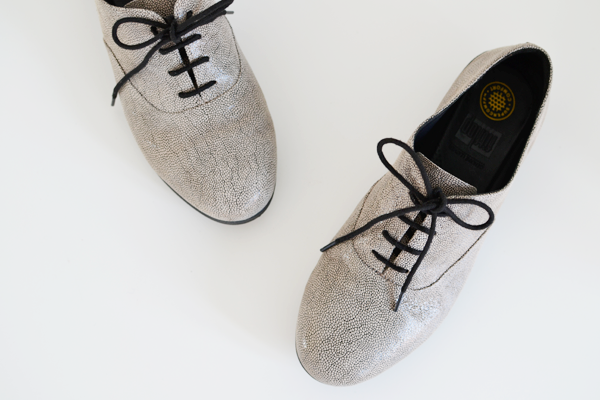 A while ago I was introduced to the lovely PR team from FitFlop Benelux during an speed dating event for bloggers. If you don't know what FitFlop is then you must have been living under a rock for the past decade. Launched in 2006, the brand has been known for ergonomic and ultra-comfortable designs that support your feet fully. My mother-in-law is a mega-fan and even my boyfriend owns a pair of their magical slides, but I must be honest and admit that the classic 'sporty-gorgeous' slides never spoke to me. Not in any way even.
I came to the FitFlop display table a skeptic, but left a convert as the SS16 collection (and good PR talk) convinced me that the brand has so much more to offer than the iconic FitFlop sandal. The brand has grown and the collection diversified into not only sandals and slippers, but loafers, sneakers, ankle boots, ballet flats and much more. With the launch of the F-pop line in 2014 FitFlop started designing shoes for the commuting working girl: smart classics, that give great comfort without lacking in style. I personally fell hard for the F-Pop loafer style so I didn't have to think twice when I was asked if I wanted to experience the comfort of FitFlops newest collection myself.
Tech talk! The comfort of my new shoes lies in their sole. The lightweight SupercomFF sole works pressure diffusing, so instead of creating pressure points on your foot soles (as many cheap shoes do) this sole claims to divide the pressure over your whole feet making them less sore and tired and making you feel more supported.
I don't yet have an outfit ready, but you can be sure that one will follow soon! I've worn my loafers under my olive playsuit, different dresses and black shorts as much as I have under my jeans or smart trousers. I've put them to the test first by wearing them on a short 5 kilometer hike over the wooded paths in the nearby preserve. I didn't walk these in, but also didn't have any sore spots or blisters by the end of the day. The sole truly is comfortable and the thickness of it doesn't really look weird or unnatural at all. It's a great shoe, that does what it promises to do: offer comfort while keeping you stylish. Now that's real, real real. Sorry, my boyfriend is listening to Nicki Minaj outside and I just had to close my post like that. Nikki's for the win! And FitFlop, of course!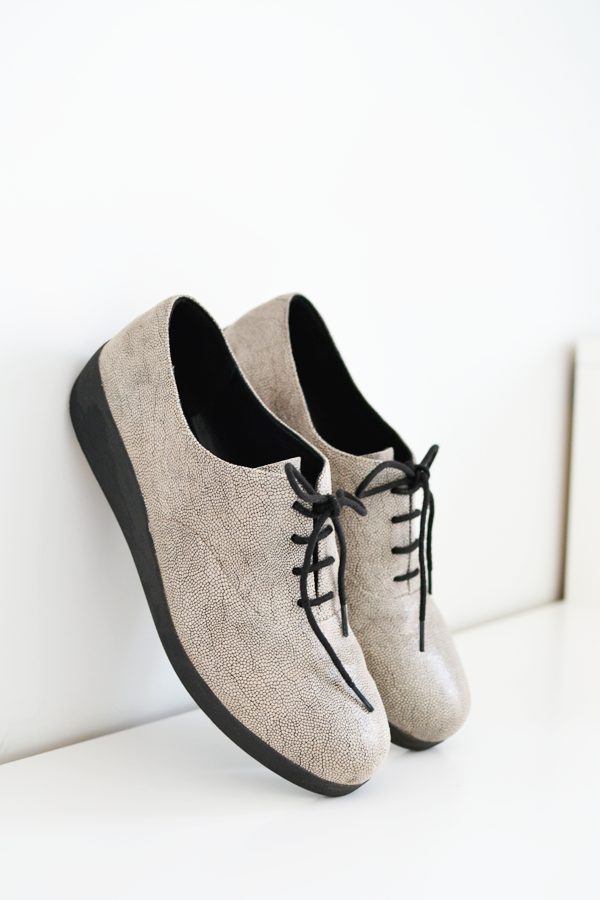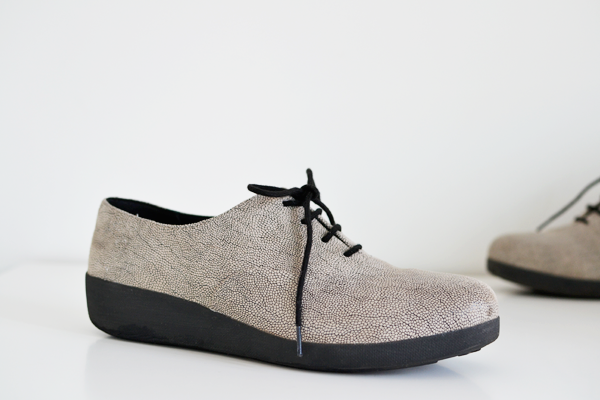 Fitflop F-pop leather oxford in Pebblestone print €130 (courtesy of).
Fitflop advises to size up.