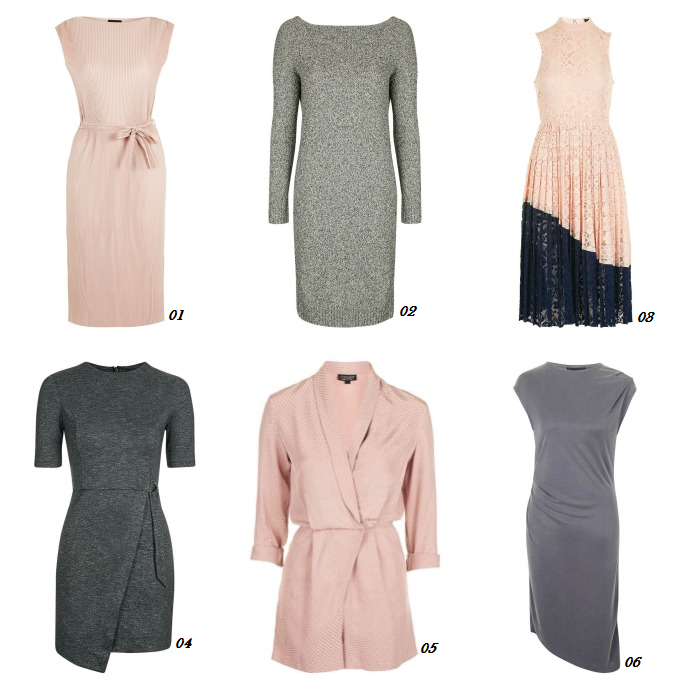 01 Plisse tank dress (€46) / 02 Slouchy 90s dress (€50) / 03 Pleated lace dress (€117) / 04 Mini wrap dress (€50) / 05 Dotted Wrap Playsuit (€68) / 06 Asymmetric drape dress (€40)
Topshop, I have a love-hate affair with it. Generally I'm not a fan of the price-quality ratio, but they still manage to draw me in with their always up-to-date collections. This time their collection of dresses seriously got me excited! Number 6 is my favorite from the bunch. I wish I had shoes to wear with it, because that dress is like heaven in polyester form. How gorgeous wouldn't it look with lace up block heel sandal (now that's a mouthful!)!? If it's still in stock in September I might pick it up anyway. The baby pink numbers also really make my heart beat faster, although those are probably not going to get along well with my pale skin. Pleats are a big deal right now, so I dress number 1 is high on my current wish list. I've cheated a little and added a cute romper into the mix too. It has gold dots all over it and totally looks like a pajama. I'm really starting to dig the pajama trend (talking about being a laggard) and have been looking a lot at shirts in that style too. The slouchy 90s dress would work perfect with sneakers in the late summer or with tall black boots in the cold seasons that lie ahead. I've owned various knit dresses in the past years and have always worn them to death, so it'd be a pretty good catch for my wardrobe.
That being said it's pretty clear that I need to think this list through and see if I really need any of these. But it doesn't hurt to look, right? Which is your favorite and how do you feel about Topshop?