A warm and welcome hello from between the cardboard boxes, plastic foil and paint buckets. We have moved! It has been quite an ordeal, but we are slowly getting there. I promised on Instagram this morning that I'd share a few more bits and pieces from around our new home and here I am to keep my promise. We still need to hang up new lightning, receive our furniture, et cetera, but you can get quite a good idea of what we're going for here. I hope you enjoy the small tour!
This first corner is our "living room", but apart from the flowers, there ain't much living in there right now. Our couch is scheduled to arrive mid-August and once it's there we want to complete the seating area with a coffee table and move the decorative rack to the dining area and place a larger type indoor plant next to the TV stand. The TV stand is the ever so famous Ikea Kallax, which we flipped on its side and finished off with beautiful dark grey felt boxes from Hema. As you might be able to see we still need to work away the cables from K's the Playstation 4 and the digital TV box. My absolute favorite part about the living room is the wall color. I've been raving about it on social media and I can't help but mention it again on the blog. I just really love it. The close-up photo from the rack shows the color most veracious, but its actually still a little lighter in real life. As soon as I saw a picture of a kitchen painted in Levis "Noorderlicht" on their website I knew that was the color we'd be going for. It looks amazing on our wall and I couldn't be happier. Click "read more" to see… more!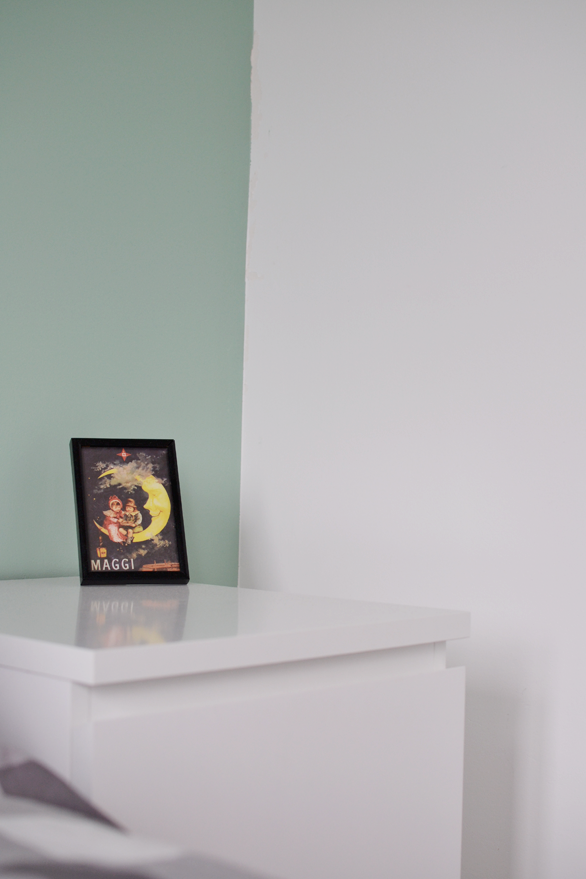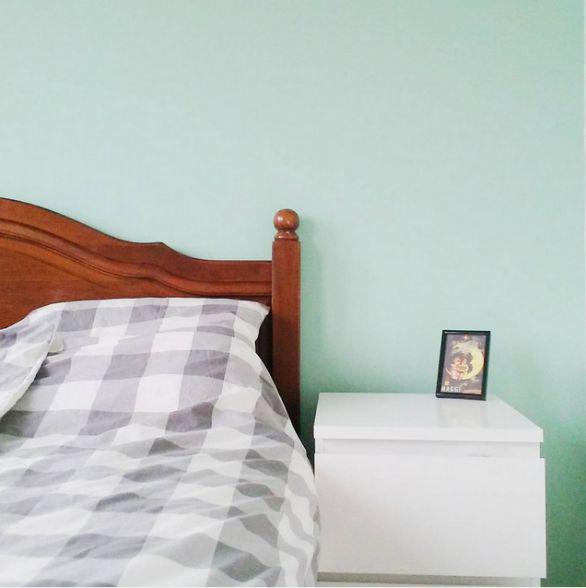 For the bedroom wall we also chose a typically fifties color. This time it was K who came up with the idea. This warm green fits perfectly with the  light wooden flooring (which you can't see, sorry!) and works mighty fine with my old, white Malm nightstands from Ikea. The first photo shows the color most veracious. The bed is K's old bed from his parents house. We're currently looking for bedside lamps and contemplating buying the Malm dresser to have some extra storage space, so I haven't got much more to show here yet. The room is basically empty.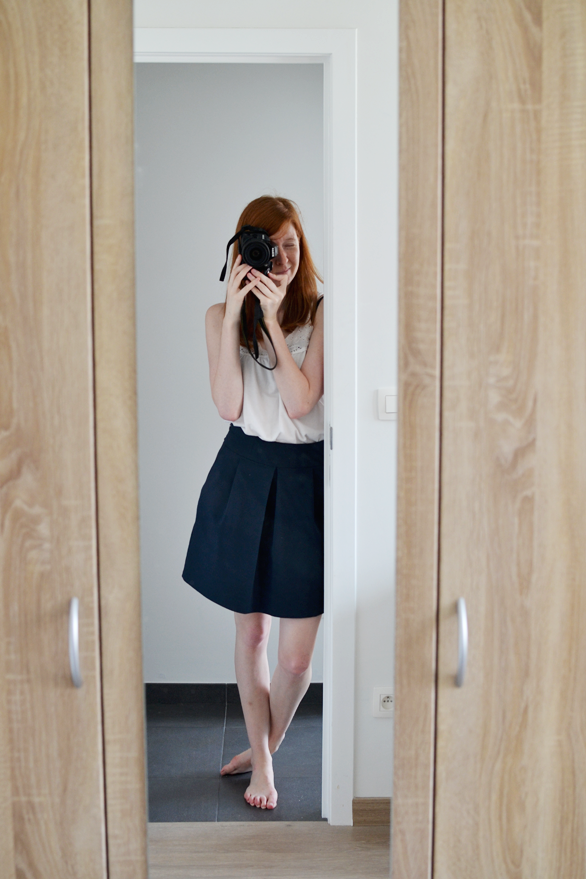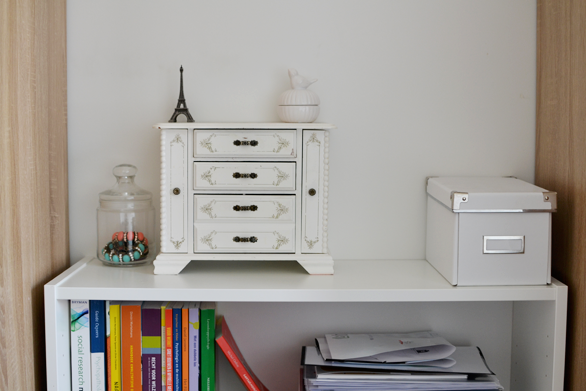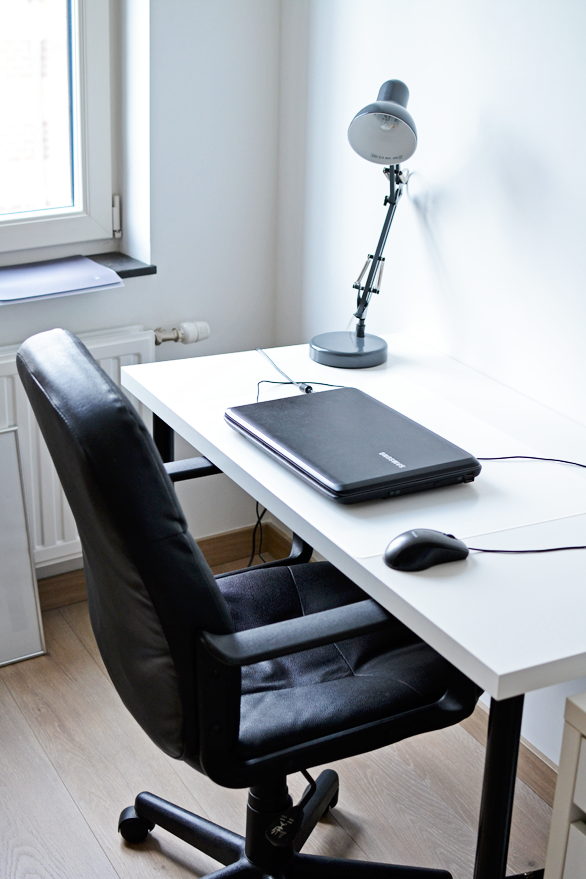 We're renting a two bedroom apartment, but are using the second room as a dressing + office area. That right there is my new blogging corner! The desk is a simple Ikea table leaf with €2.50 table legs fixed underneath it and the lamp is a recent sale purchase from Hema. I only now realize how crooked it was standing when I took my photo, haha. On the corner of the desk I keep some basic utilities such as a pen holder and two jars with paperclips and thumbtacks. They fell out of my frame. In between our two wardrobes we had just enough space to fit an Ikea Billy book shelf. K lets me use the top to display my jewelry box and some nic nacs and on the shelves we have all our college books. Those who study in the Faculty of Social Sciences at the University of Antwerp like me might recognize a.o. Alan Bryman's social research methods, haha. Our non-serious literature is still in boxes by lack of an appropriate space to put them.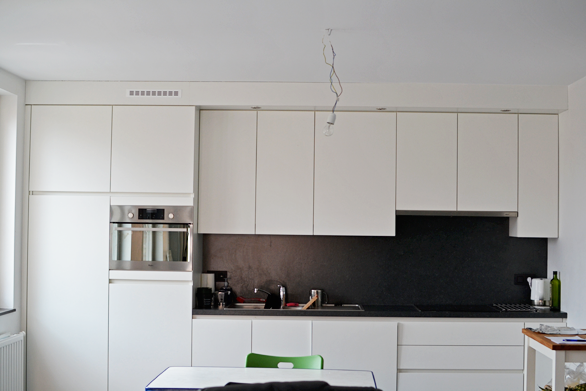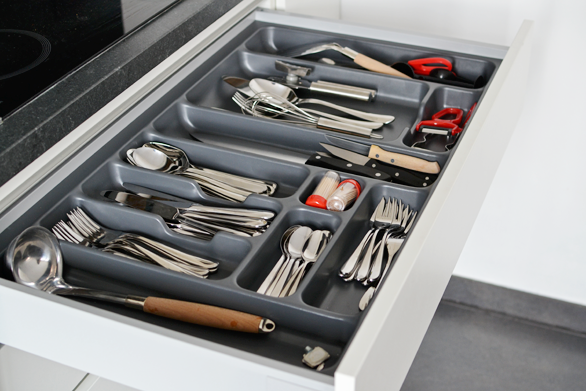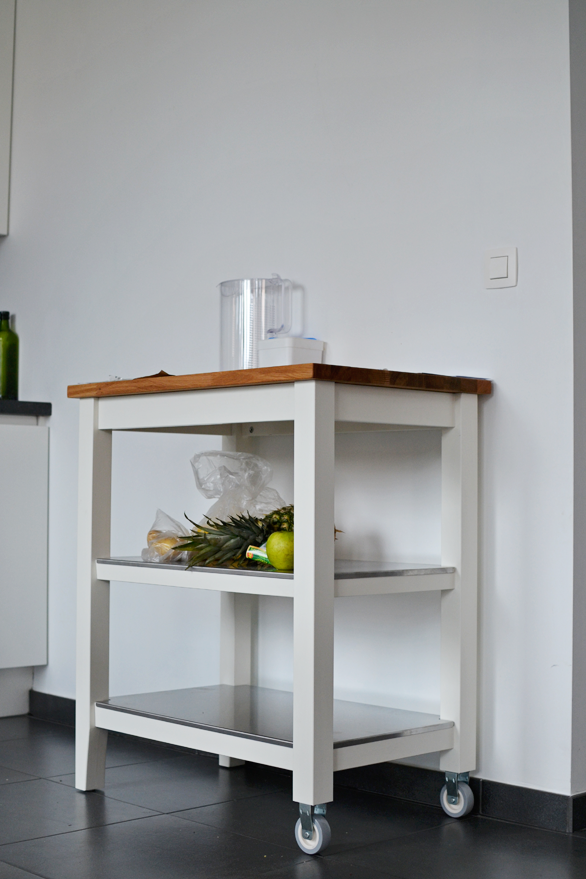 The kitchen is what made us decided on this apartment. It's brand new (well, everything is), basic and has a build in oven and dishwasher. We have a ceramic cooker and a double washbasin. Because we lacked working space (it is small after all) we bought an kitchen island from Ikea on which we also store our fruit and little bits and bobs. We really need to buy a fruit basket, by the way. I lived on campus for two years, so I brought back most of my kitchen utensils from my studio in Antwerp. I'm still renting that space until September and go there occasionally. It is so strange to see it empty after all the time I spent there. Makes me realize that my days in school really are over. Endings and new beginnings, right? When I brought in all my stuff I realized how color-coordinated everything was and I though I'd show you, haha.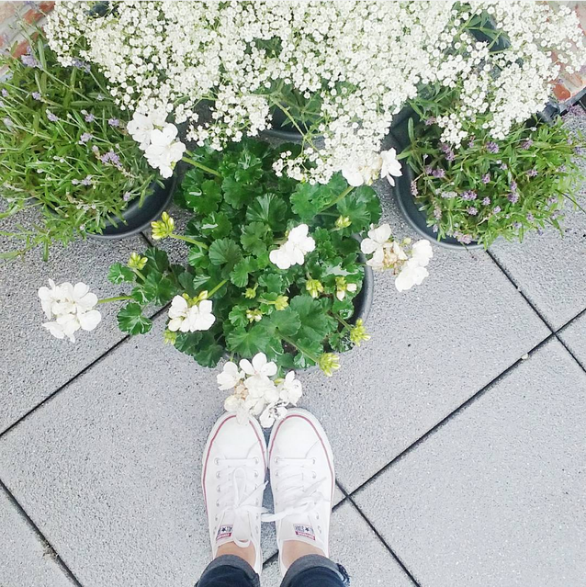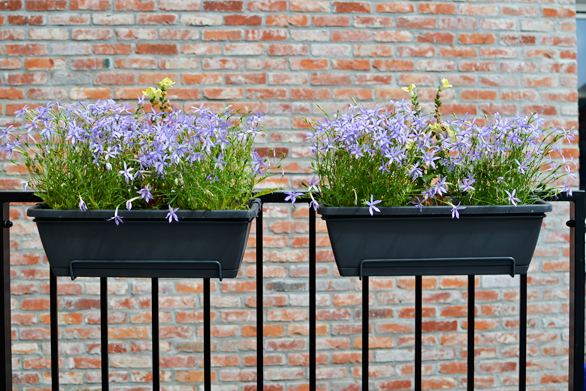 Lastly a few bits from our terrace. It just rained and the pictures turned out bad, so I'm only showing you my flowers. The potted plants were a gift from my grandmother. The pots are from the brand Elho and compliment the white geranium, lavender and 'summer sparkles' (yes, really) perfectly. The hanging pots are also from Elho, but these I payed for myself. K chose the yellow flowers and I picked out the baby blue ones (they smell sooooooo good!). We mostly hung them there because there's a bedroom window from another apartment looking onto our terrace and into our living room (there's a large sliding door) and we wanted to break their/our view. On the other side of our terrace we have a prettier view, I promise.
This post turned out much longer than I though it would and I feel like I actually didn't even really show you guys anything. Once we're a couple months further down the road I'll be able to show how everything came together and that post will probably be more fun to read. Right now we're just moving things around and seeing what works and what doesn't. I didn't show you the bathroom and laundry room, but just so you know we do have those. They're just plane and boring, although our washing machine and dryer are pretty fancy! Anyway, I'm going to shut up and close off for today. I'll be back to posting outfits and daily bits on Thursday. I hope you enjoyed and see you around!