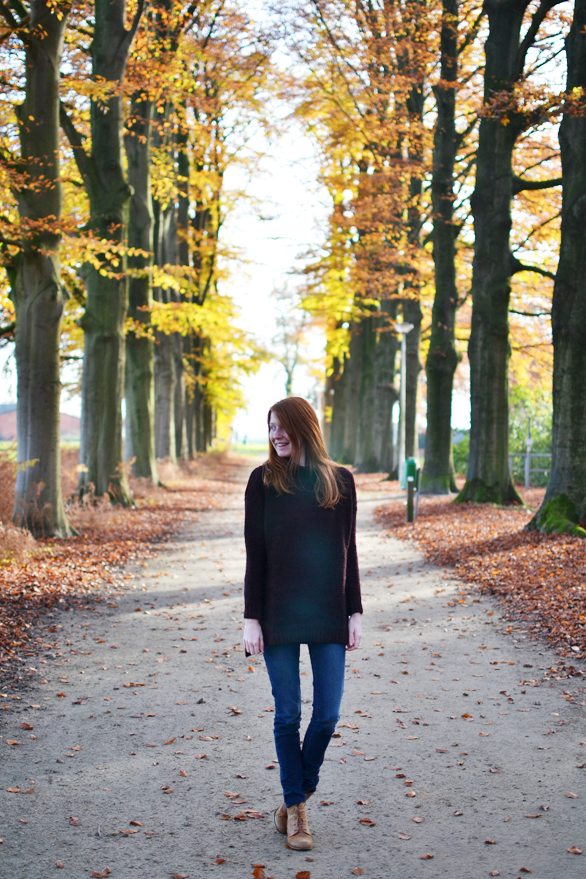 The last leaves have fallen and winter has come. The first layers of frost have made me curse about forgetting to put a scraper in the car and losing my gloves somewhere in my drawers. I scratched the windshield with my Ikea Family card and warmed my fingers with a take-away coffee. I am never ready for the first sting of winter, but at least I tried a little this year.
A few months ago I was feeling down after life had been a bitch (there simply is no other word) and I needed a pick-me-up. Breakfast and a good chat with one of my best friends, an extra coffee afterwards and a dose of retail therapy instantly made me feel better. This ginormous turtleneck sweater was found at Zara that day and I freaking love it. Because it's big. Because it's cozy. Because the colors are perfect (it's deep purple with hints of navy blue). The wool is a bit itchy, but I ain't complaining for €27. As soon as I threw it over the register, I knew this knit was also going to keep me warm and comfortable during my study weeks in late December and January.
Yup, it's that time of year again when the whole world celebrates the Holidays and I close my bedroom door and hibernate until February. But you can hardly call it a winters sleep. February, our salvation. So far away, still. I have 5 exams this round and am already wishing for the last one to be over. They're all oral examinations too, all but one, and I cannot express how much I dislike those. I'd rather write my answers down than having to defend them in front of my professors. Something about bad experiences with elementary school teachers that even more than 10 years later, I still don't like them fellows.
Thank you for reading again, and have a lovely week! If there are other students among you: pour yourself an extra cup of coffee and go for it. Good luck with your exams! I'll be studying with you (and Tweeting and SnapChatting and Instagramming excessively while doing so).