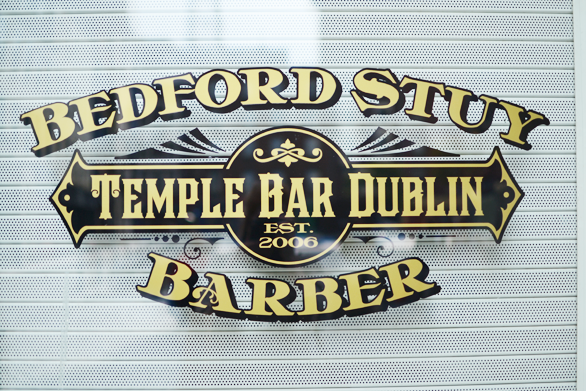 Talking about being behind on schedule. My trip to Dublin was almost two months ago already, and I've actually been to Paris in the meantime as well. Expect an overdose of travel photos in the upcoming weeks or (if you can't wait) take a peek on
my Instagram
, because I've already shared a few photos there!
Dublin. Oh boy… What do I remember? One, the cliche about the redheads is true. They are everywhere. I felt right at place! No weird looks, no name-calling. Heavenly! Two, Penny's. I'm not a big fan of Primark stores. They're often too crowded, too unorganized and overall too big. This time things were different. K arrived in Dublin later than I did, so I had some time to spare to explore the stores without having to bore my boyfriend with it. I actually hoped to come across Grafton Street (I did not have a map or internet) by randomly walking around, but I ended up on O'Connell street and Henry street instead. I wandered into Penny's on O'Connell street out of curiosity and was surprised to find the store almost abandoned. I bought a lovely coat and the obligated pajama (Europeans will know what I'm talking about!), and then headed to the Debenhams on Henry street. I was hungry and craving their raspberry scones and a coffee after my flight. The rooftop view from their restaurant is pretty amazing. After a good few hours I realized Grafton Street was on the other side of the river Liffey and I found my way there after passing through Temple Bar. The area around Grafton Street and St Stephens Green was by far my favorite in the city. The fact that Reiss, Ted Baker, Topshop and Brown Thomas are located there might have had something to do with it. When I finished my shopping I sat down in the Marks & Spencer cafe with a hazelnut latte and waited for K to arrive. He had been in Limerick for work that week and had invited me to fly over for an extra weekend in Dublin. I must say I like his business trips!
The eventual haul was not that big. I went into
Brown Thomas
 (92 Grafton Street) to try out Jo Malone's newest cologne: Wood Sage & Sea Salt. Admitted, the Jo Malone perfumes are expensive, but they last even through the night and last me a long time. I've worn my other cologne daily throughout the last year and I still have half a bottle left. I also made a stop at
KilKenny
 on Nassau street (
"omg they Kilkenny!"
, anyone?). I read online about their great selection of Orla Kiely housewares and they surely did not disappoint! When I was in Canterbury in 2013 I came across the collection for the first time and fell in love. I didn't really have a budget then, so I saved up a little this time and brought home a cute bowl. Also: K is a fan and when he's a fan of something I almost have to buy it, because we only rarely agree. I also randomly bought a plain white tee at Gap and that was it! I went into Topshop to look for the items on
my wishlist
, but they were all sold out and maybe that was a good thing.K and I later explored the city by foot, and came by most of the well-known attractions. We wanted to visit
Dublin Castle
but it closed early for a concert on the courtyard.
The Script
came to promote their new album "No Sound Without Silence", and I would have loved to see them preform! Sadly, the tickets had already sold out. We took a break in the park surrounding
St. Patricks Cathedral
and walked past the
Old Jameson Distillery
, but we weren't in the mood for a tour.
One spot that I'd like to recommend for anyone coming to Dublin is
The Woollen Mills
(42 Lower Ormon Quay). A colleague told us to visit, and we were lucky to find an empty table on their roof terrace. Make a reservation if you can! The menu is rather limited, but the food was
good
and typically Irish. I had their Oreo, chocolate and peanut butter tart for dessert and my God was it divine! No wonder they use a photo of it on
their website
, haha. We also ended up in a pub one night and had fish'n'chips a few times in-between, because… across The Channel that's what tourists do.
Overall Dublin reminded me a lot of Antwerp. Not too big, not too crowded, but it has everything you need for a two-day getaway. Lots of different city quarters to explore, a few things to visit, parks to relax in, lovely river sights… . I'm sad we didn't have time to discover the area around the docklands. Dublin is one of those cities that you need to have seen, but I'll tell you the same I told my friends: if there's a city you'd like to see more, go there first. Dublin, to me, is perfect for when you've scratched all the mainstream, attractive destinations of your list. On the other side, it was a welcome relief from the big and busy cities we usually visit. I hope you enjoyed this post, and watch out for Paris next!
And a few words about Ryanair: worst flying experience ever. That's all.