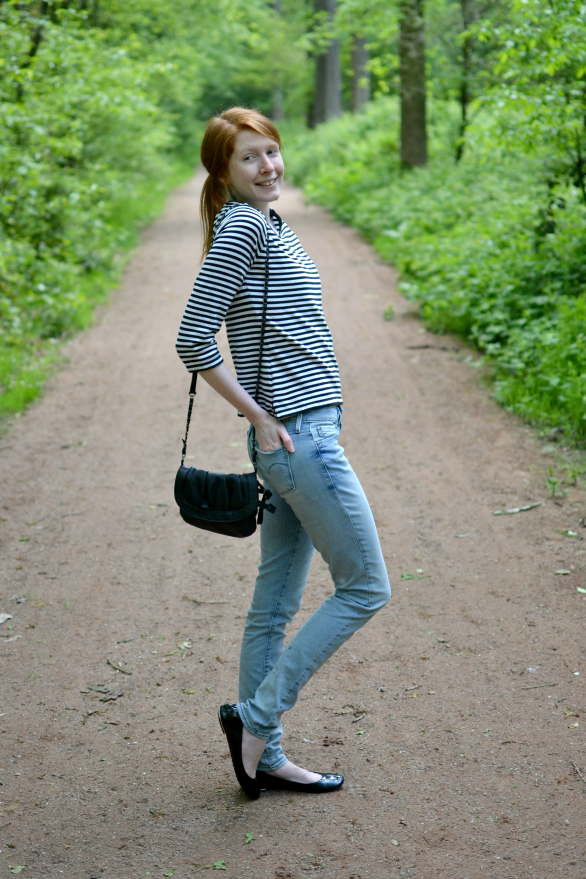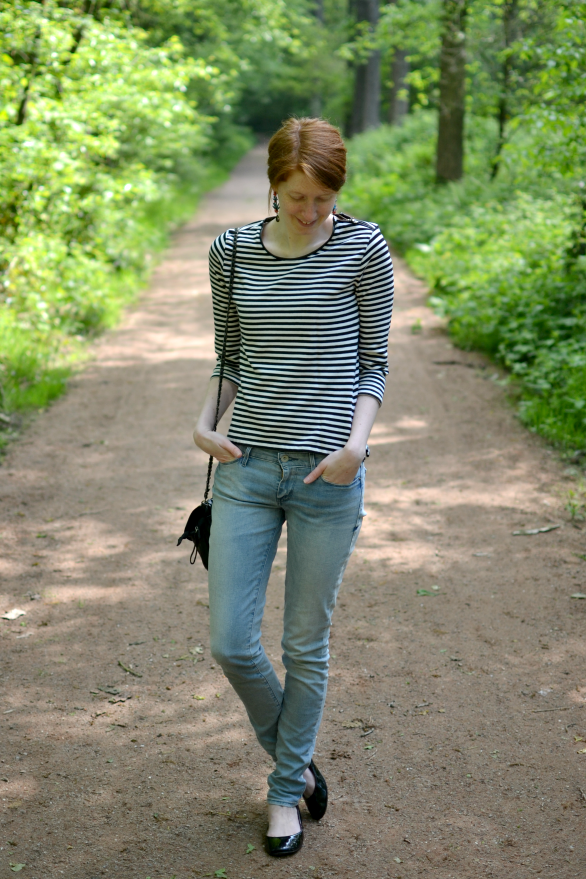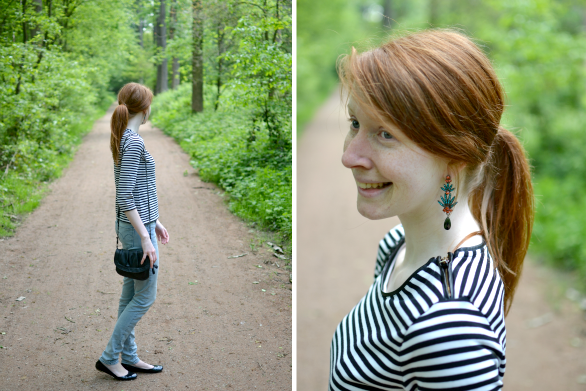 top: Massimo Dutti • jeans: Levis • ballet flats: Nine West • earrings: souvenir from Venice • chain-strap bag: Promod
I have been a commuter for 10 school years. Even though the public transportation companies aren't my best friends, I have met some of my best friends because of them. It all started when I was twelve and I broke my wrist driving home on my bicycle after class. While I was recovering, I had to take the bus to get to school in time. I discovered a whole new wonderful world on wheels. I fell in love with fellow commuters, was insecure among so many peers, made friends, had conversations with bus drivers and strangers, had young children sit on my lap, helped people in and out or carry things. And last week, we had one of the most amazing things that can happen when you commute: the bus broke down.
Why the heck would I say something like that? Let me defend my opinion. Busses are, at leats to me, like liquid communities. It starts at the platform, where everyone is standing together waiting to get somewhere. It's unavoidable to pick up random conversations from the people around you and then when they notice, you smile awkwardly. Then comes the inevitable moment where everyone realizes the bus ain't going to be on time, and you all breathe a sigh of frustration. Everyone waits a little longer, together, and give the bus driver their most annoyed look when he finally arrives. This my dear readers, creates a bond.
Last week, I was listening to two boys talking about a girl they had on Tinder (PS: can someone please explain to me what Tinder is?) and an elderly lady called her husband to say she would bring the groceries. A girl rolled her eyes at me when the bus arrived late, and when the elderly woman with the groceries got on the it, she commented on the bus driver for being late. I stacked my suitcase on top of the one carried another redhead travelling along, and found a window seat for the one-hour drive home. We  were on the road less than 10 minutes, when we hit the pavement and one of the doors got busted, which set the security system of the bus into motion. With the security system on, a bus can't drive. We stood still in the middle of one of the busiest roads leading out of the city, blocking all other public transport.
It's amazing how fast people react in this situation. Within two seconds, a random guy developed into a leader, escorting everyone off the bus and onto the pavement and helping the elderly passengers to a nearby bench. The boy next to me turned into an engineer, trying to figure out how we could balance the bus so that we could slide it off the pavement and get it back into motion. Four men took upon them the task to close the jammed doors to de-activate the safety system. Together with another girl, I helped a women keep her kids close and away from the damaged bus. The elderly lady with the groceries was grumbling, and a man reading a book tried to calm her down. Not much could be changed about the situation anyway. Everyone did something, and everyone started having conversations. We stood there for an hour, on a random pavement, but it didn't really matter. We were fine, we were bonding.
After an hour, both a mechanic and police had been on the scene and it became clear to us that the bus was going to be towed. No matter how hard our engineer and the other men tried their best, nothing they tried seemed to help. Me and the other redhead went onto the bus to pick up our suitcases and left the scene, with a trail of other stranded passengers behind us. At the back of the traffic jam, caused by our bus, was another one heading home which I flagged down to stop so us poor stranded souls could finally go home. I ended up next to a women who had just missed our bus, and told her this was one time she probably was happy she missed it. Along the way, people from the stranded bus got off and every time someone vanished, there was a nod, a smile and or even a waving hand. When I finally got off, one of the men trying to fix the doors took a bow for me. Busses are liquid communities, they form and dissolve in a short time span but they have the capacity to make your day a little brighter.
I may have lost one and a half hour of my study-time which caused my blog post about D'makup to be delayed, but I still smile when I think of the conversations that were had that day. Sometimes, I like it when public transportation messes up. It's how I've met some of my dearest friends, and why I still prefer taking the bus over taking the car for commuting. End of my plea.
And in case you're still not convinced: We saw Matthias Schoenaerts while waiting. Check that oooout!