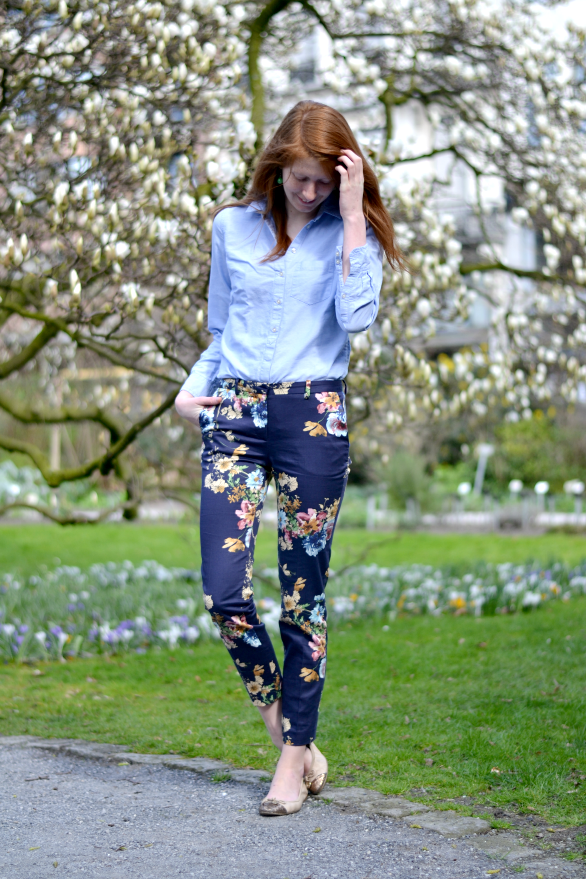 florals pants: Zara • blue shirt: Gap • ballet flats: Scapa 
I'm having what seems to be the worst blue Monday of my short lifetime. Yesterday I arrived at our apartment building for my last week of classes before Spring break, in happy-dance party mode of course, and found the hallway flooded. Tiles had been lifted from the concrete floor which had burst, the carpet was stained and the smell was … I'm sure you can imagine somethings when I say "open sewer". Our landlord came to our rescue and shut down the water supply, and for safety our electricity and internet too. We all were allowed to tap a bucket of water before the taps closed. It was a good exercise in thriftiness this morning when I had to wash myself, do my dishes, flush the toilet and help out my neighbor, who wasn't at home when the water supply was closed off.
When I got home from class, my landlord and a plumber were busy taking down a wall in my bathroom to access the waterworks, but an electrician had already checked and cleared the cables from water damage so that is good news! I'm now writing this blog post with two men in my bathroom scanning my shower and toilet for potential leaks. I have to admit, it brings variation to my post writing routine. While these men are in there I'm trying to not get upset about all the dust that is coming into my living area which I had so carefully cleaned before the weekend. A dust pile is also growing on my also continuously growing pile of papers that need to get read and I'm out of chocolate. Also, this outfit would have worked better if I had let my shirt un-tucked. Water damage, dust, home work and chocolate deprivation are the key ingredients to any blue Monday.
Hope you guys had a better start of the week!