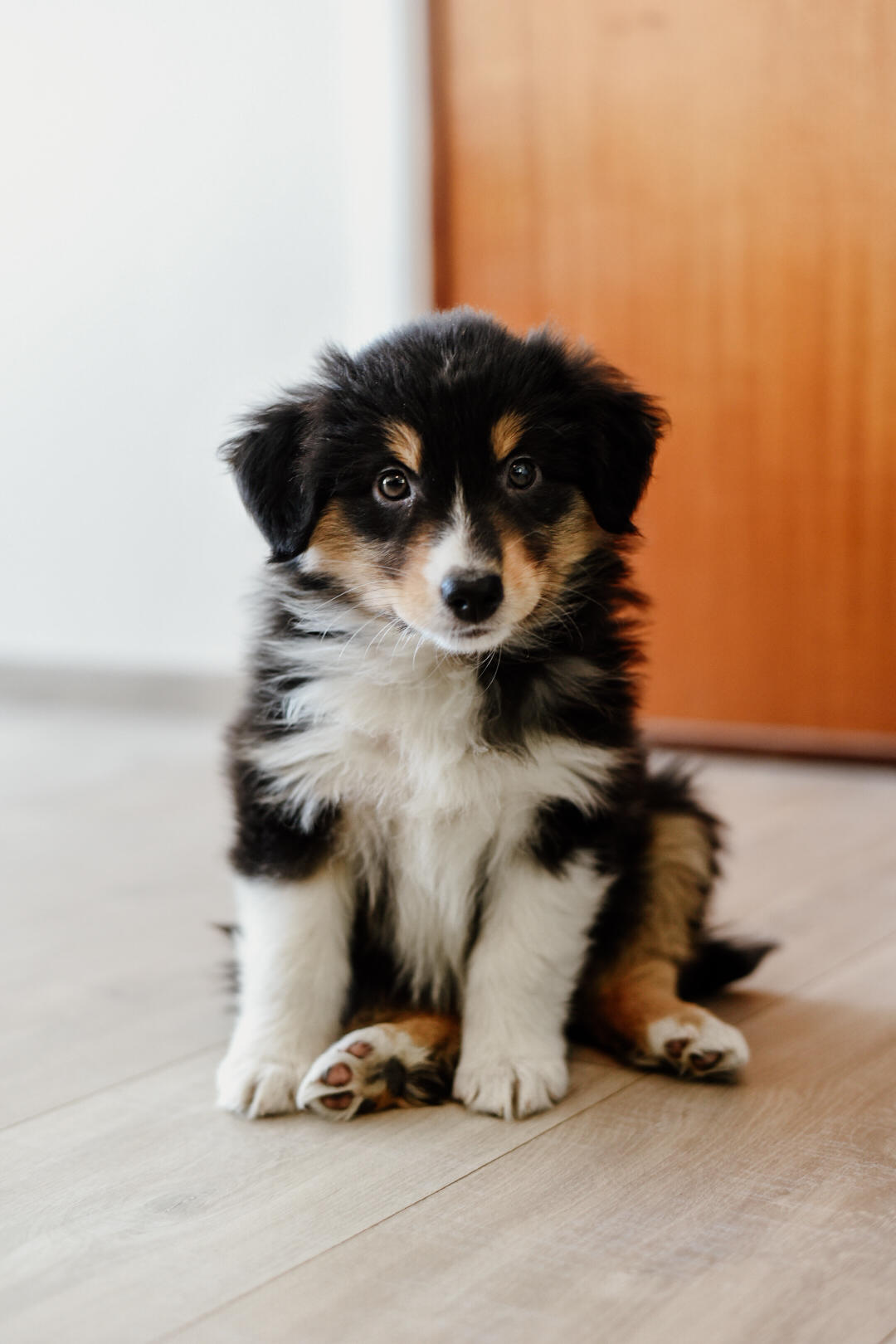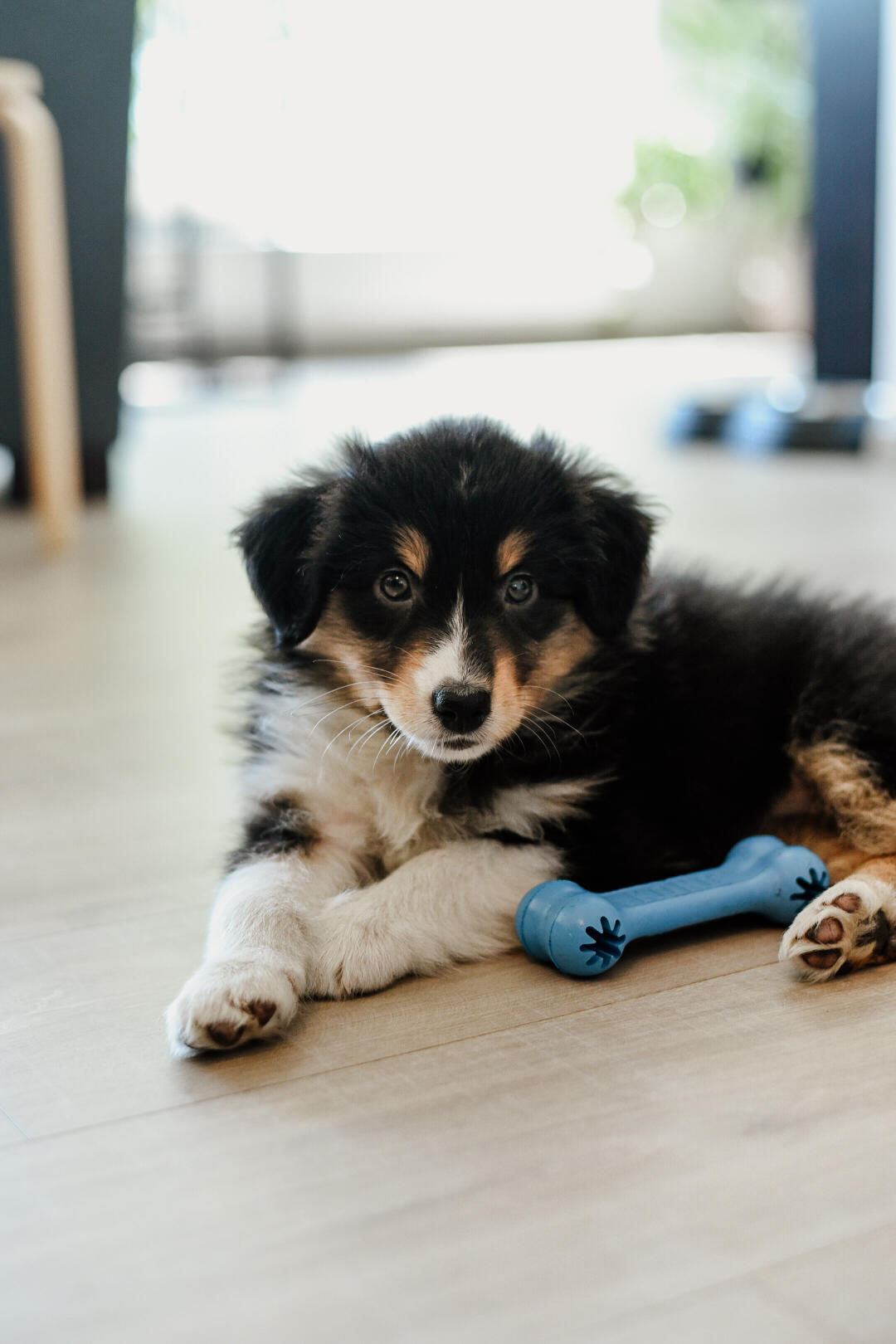 Hey Internet, Meet Ozzy!
I've been teasing at a big change for our family for over a month now and yesterday it finally happened! I finally got to introduce her to you all on Instagram! I want to thank everyone who reached out yesterday and shared the Ozzy love that we feel. She's such a precious little pup. Happy and content!
My boyfriend and I are both dog persons. Therefore it was never a question if we would get a dog, but rather 'when?' and 'which breed?'. I had my mind set on an Australian Shepherd for a few years, but my boyfriend needed more convincing. He was a border collie fan! I'm happy to announce that the cute face above is that of a Mini Australian Shepherd (MAS). Ozzy was born on 11th of March 2020 and that makes her 8 weeks old right now. She came to live with us yesterday, May 7th, and seems to have settled into her new home quite well.
We started talking seriously about getting a dog around the change of the year. We would discuss how nice it would be, get hyped and say 'we'll call the breeder and just ask if we could meet'. Then didn't dare to call and start making up excuses why we wouldn't be able to give a dog the proper care. One day we looked on the site of our local breeder and saw they had one puppy available. My boyfriend got really excited, but I had been home because of my burnout for a few months and didn't trust my mind and body enough to go through such a big change. I talked him out of calling. He kept checking the breeder's site almost daily and to our surprise the puppy remained available (Aussies are in high demand). Eventually I agreed to make the call. They said they had one female Black Tri MAS (black tri = referring to her fur colors) available and would send us pictures after the call. Now you try and convince yourself NOT to buy a puppy after they send you freaking cute pictures of her. I managed to hold out three more days. And then Ozzy was ours.
Days later our government put a lock down into place. So, unlike when you buy a puppy in normal situations, we weren't able to visit her. Instead, the breeder sent us short videos every 3-ish days so we could see her grow from a one week old ball of spiky hair into a lively 8 week old puppy. With the corona virus still reaping havoc mid april there was some uncertainty about pick-up time and date, but eventually everything got sorted out in time. Our breeder sent us a letter from the town major declaring the drive to pick her up as a 'necessary' movement (a.o papers). We were to show the letter in case of a police check as it is still forbidden to use a car in Belgium for all non-priority moves.
Yesterday was D-day! We had our pick-up appointment at 13h and she was placed on my lap while we dealt with the final paperwork (sales agreement, her chip, …). I melted as soon as I saw the young lady bring her out. She immediately made herself comfortable and even asked to be petted. It was the cutest thing I've ever seen! She did great on the car ride home, and although a bit timid at first, she also seems to enjoy our garden and living room by now. Her crate is another story… and don't we dare move out of her sight, haha. Her confidence is growing fast so I have no doubt she'll be more at ease soon.
I should probably go and lift my boyfriend from his puppy watch duties now. He's working from home and I am still on sick leave, so we can practice 100% supervision which is really nice (one good thing about lock down?). He's in zoom meetings and although Ozzy likes to sleep, she can also have her moments.
I'll be back with more fashion-related content soon.
xo Nikki