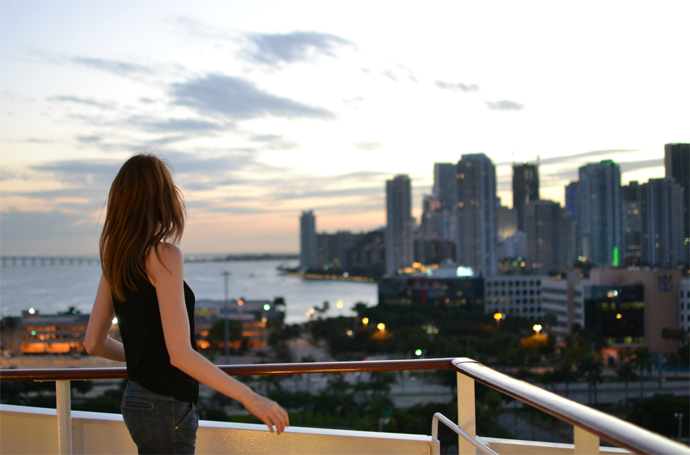 Under the motto "better late than never" I hereby present you my travel bucket list of 2018! It wasn't easy to pin down the destinations that I want to visit the most as I pretty much want to see every square inch of this planet. My wanderlust currently knows no boundaries, but my bank account does (sadly enough). It is thanks to my resolution to only travel to new-to-me places this year that I managed to narrow down my ultimate bucket list to a financially achievable list. So, here are the 6 destinations I want to visit in 2018!
Berlin
I've never been to Berlin. Isn't that weird? When I first started travelling, the city of Berlin didn't appeal to me. I must be honest and admit that I have little factual knowledge about the German capital, but in my head I have an image of a grey and boring city. My idea of Berlin quite likely stems from my past experiences with Germany, which I only ever visited during winter time. Since my friends are starting to wonder how many times one person can visit Paris and London without getting bored, I thought I'd surprise them and go to Berlin for a change. Hopefully the city will positively surprise me too… .
Porto
Another thing I really want to do in the new year is a solo city trip. I have mixed feelings about this. In 2013 I went on a day trip to Canterbury all by myself and I really didn't like it. I did not expect the loneliness and the heartbreak I felt because there wasn't anyone around to share my experiences with. Canterbury was absolutely stunning, but 8 hours on a bus, a ferry ride and a whole day alone in an unfamiliar city were a bit too much for 20-year-old me. 5 years the wiser I'd love to give solo-travelling it another try. I figured a short and familiar travel plan would be the best way to go. While looking for an affordable city trip destination that I felt comfortable going to alone, I ended up with Porto.
Tallinn, Riga or Helsinki
It pains me that I have to choose. After travelling to Vilnius in 2016 and Gdańsk most recently, I'm sold on Northern Europe. I have an endless list of cities and regions that I want to visit, but I only have enough budget for one of the above this year. Since I always book smaller trips last-minute and rather spontaneously I have no clue in what city I'll eventually end up in. Care to take a gamble? Leave your best guess in the comments below!
Stockholm
In October my friend K and I traveled to London with a Eurostar train. While the train was slowly rolling out of Brussels South station I was telling her that I really wanted to visit Stockholm, but that my boyfriend prefers the sunnier side of Europe (Bilbao, Valencia and Bologna are on top of his list). I have been trying to get him to go North with me for years, but apart from Vilnius and Gdansk he hasn't taken any of my offers. My heart fluttered with joy when K wonderingly asked: then why don't we go? And so our next trip was planned even before our first had started!
The Oslo, Aarhus & Göteborg triangle
Pinterest made me think of this one. I saw a few pictures from Aarhus (Denmark) during one of many scrolling sessions and I got curious. An intensive google search learned me that Aarhus is that perfect not-so-obvious city trip destination. The only problem? There are no direct flights to Aarhus from any of the nearby airports. HOWEVER! There are direct flights to Oslo and Göteburg and now I have this travel-perfect image in my head of a 1,5 week hostel-hopping trip between Norway, Denmark and Sweden. Sadly enough my friends – much like my boyfriend – prefer shorter and sunnier trips and so I have yet to find a travel partner. I considered going alone, but it might be a bit much to undertake such an intensive trip all by myself after failing to be on my own even for one day. Or wouldn't it?
Paris or London
Okay, okay. I said that I would only visit new-to-me places this year, but I've kind of made it a tradition to visit Paris and/or London every year since I was 18 and I don't want to give up on that.  To be totally honest here… My weekend in Paris for this year is already booked. Paris is a very easy to reach destination and if you book long enough in advance it's pretty affordable too! This time I'm travelling with a friend and like always we're taking a Thalys train from Brussels South station straight to Paris. I can't wait to be back and roam the streets of my favorite neighborhood Saint-Germain-des-Prés and have a pastry from Pierre Hermé (or two… or three…).
Any you? Where would you go if you could pick any destination?