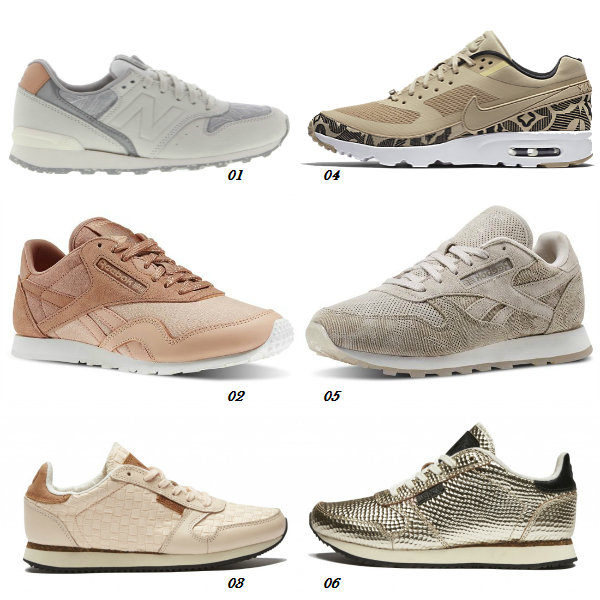 It seems like I have a new annual thing going on. Around this time last year I injured my knee while running and this year I'm wobbling through life again with an injured knee and hip. If I continue on this way, I don't want to know what state I'll be in in ten years haha. The upside of the pain though is that it means I have a solid reason to buy an extra pair of sneakers. I'm not the sneaker type, we all know that, but since they are comfortable and offer more stability than let's say a pair of converse or my ballet flats they are a lot more sensible to wear while I'm healing. After hopping up and down Barcelona – 44km yo! – on converse all-stars I guess I should have known what was coming. I should have listened better to my doctor last year. Anyway, now it's time for the hardest part: choosing! Care to help a girl out?
01/ New Balance 996 (€150) – Classic New Balance sneakers with hints of silver and interesting details. These stole my heart the moment I saw them, but got some serious competition from the other pairs I've featured. Meant as a lifestyle sneaker, these are sure to amp up any of my casual Spring outfits!
02/ Reebok Classics Nylon Slim Core (€60) – I hold a strong believe that Reebok is going to be this seasons Adidas. These clay-colored beauties caught my eye when I was in Spain, but might be a little too colossal looking on my feet.
03/ Woden Weaved Rose (€100) – Forget all-white sneakers. I'm going for pastel pink this summer. The woven parts in these Woden sneakers are such a lovely design detail and give the shoes an airy feel, which is perfect for the warm season. Woden wants to bring us old-school sneakers with a strong Scandinavian appeal and I must say they are very successful in their mission. I am convinced. Are you?
04/ Nike Air Max BW Ultra LOTC "London" (€160, available now) – As soon as I got the press feature about Nike's new City collection I knew these would be on my wishlist for the season. They are gorgeous! It's a Nike classic, re-designed with a Victorian patterns as a tribute to my favorite city of all: London. Come on, what is not to love?!
05/ Reebok Cassic Leather Laser Camo (€90) – I love these mostly because of the beautiful sand-stone color. As with the other Reebok sneakers I am concerned that maybe they'll be a little too large for me to pull off, but they are pretty nonetheless.
06/ Woden Ydun Metallic Gold (€120) – Again a pair from Woden, but this time in a bold gold metallic. If you stick around until Monday you'll see that I have caved for the metallic trend and have gotten myself a pair of silver brogues. If I do silver, I might as well do gold too, right?