Hello, nice
to meet you! My name is Siel and I blog at
MademoiSielle
. First of all I want
to thank Nikki for having me as a guest blogger, I'm very honoured! I've met
Nikki once in real life and I can assure you she's very sweet and funny. I hope
she has the time of her life in New York, I'm so jealous!
Nikki asked
us to write about what we would wear on a city trip. Well, I haven't done many
city trips yet, most of the time I go for a one or two week holiday. I've been
to Paris in November last year, but I don't think pictures of me in a winter
coat and knee socks are appropriate this time of the year, so I just browsed
through my blog archive and looked for city trip suitable outfits! Ready?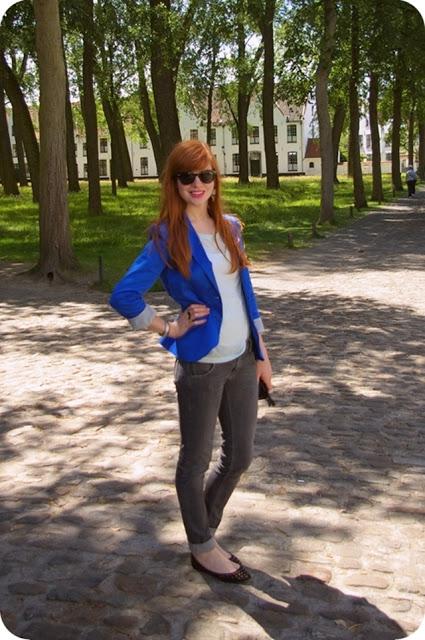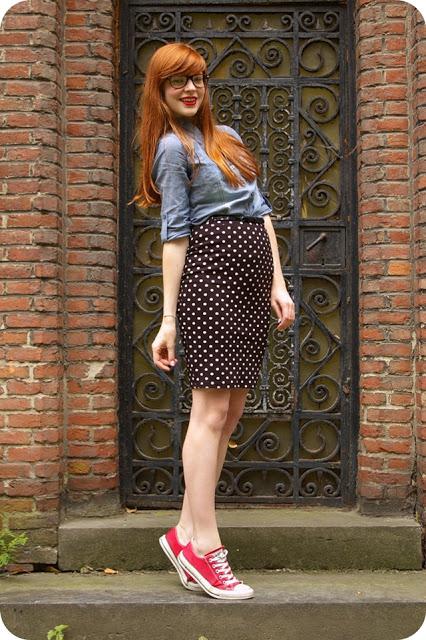 In my
opinion, the most important thing about a holiday suitable look is comfortable
shoes. You'll be walking around all day, and unless you're a model who is
trained to walk in heels every day, your feet will be dead if you don't go for
flats! Also, they take much less space in your bag, so you could take at least
3 pairs 😉 I'd go for a pair of neutral ballerina flats (black and red are my
neutrals), a pair of Converse AllStars and maybe some summery sandals. But don't
forget to bring at least one pair of heels too for going out to a fancy dinner
or a club!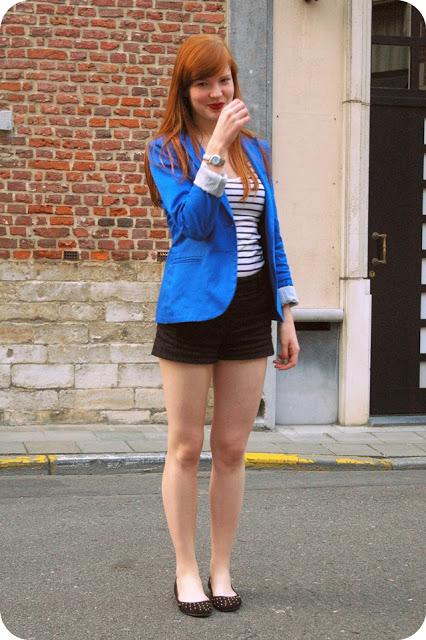 Second: a
nice blazer or trench coat! You never know if the weather will stay sunny, so I like to
be prepared for the worst. I love my blue blazer, it's a colour that matches
with almost everything in my wardrobe. That's why I'm wearing it in 3 out of
the 5 pictures in this post, haha!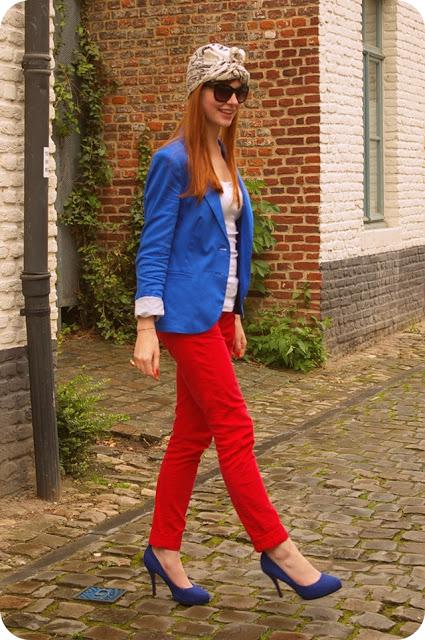 If you're a
pale-skinned redhead like Nikki and me, you probably already know that your
best accessory is a hat (and sunscreen of course). And if you're like me,
almost no hat suits you. The solution? A turban! I've done the turban look a
few times this year and I love it: it's easy, doesn't take much space in your
bag and it gives your outfit something extra. Most of the time on holiday you
don't wear complicated outfits because it's hot, so some eye-catching
accessories are the solution. Also, when there's a lot of wind or rain, you don't
have to worry about your hair staying in place! Best thing ever. And don't
forget your sunglasses of course!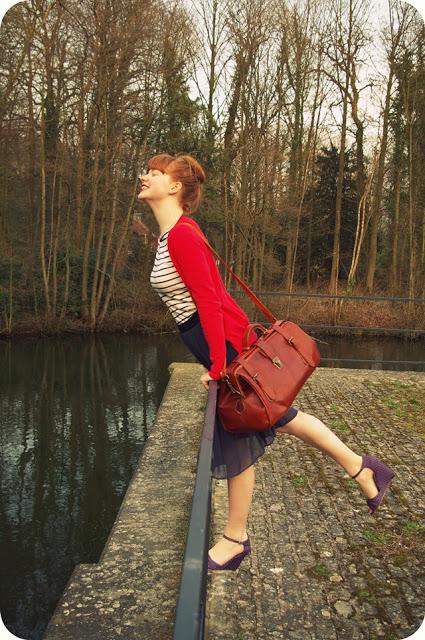 And that's
about it! Of course I'd bring shorts, skirts and dresses too, but that doesn't
need much explanation, does it? I would say there are two ways of dressing
fashionably on holiday: a 'statement' piece combined with neutral pieces, or a
simple look spiced up with great accessories (jewellery, hats, funky nail
polish etc). If you keep that in mind, you'll look great every day! But remember, you're on holiday to relax, not to stress about what you'll be
wearing each day 😉