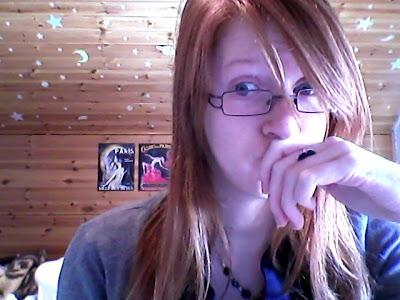 I realized that I had quite a few nerdy features myself.
Get ready for a list of things you might not (want) to know about me.
1. I am a ginger. And people tend to notice that. Some people yell 'Hey Ginger!" at me and then I stop. Stare. Look shocked. Scream. Look around. and yell back "Where!?" … They're asking for it.
2. I live in the past. Play me some Roxette, Bon Jovi and Journey please. I am an 80's wild child!
3. I am already practicing my shades move, if I ever go to Miami, I am so going to act like David Caruso.
4. I haven't been out to a real big party/club in over a year. My friends go weekly.
5. I always make homework long before due date. But I always say I still have to start a week before…
6.
My Ipod has 458 songs on it. My 'music I shouldn't have on my iPod'-playlist counts 104 songs. That's 23%…
7.
I played several MMORPG's. I played several whats? Thank god, you don't know!
8. I can sing the whole pokémon theme song. And yes, it's on my iPod.
9. The 'Epic rap battles of history' are awesome!
10. I always arrive long before I have to be somewhere. In other words: I am never too late! I get stressed if I am 5 minutes over time…
11. I love my PlayStation. I am addicted to the GTA series, for reals. ADDICTED!
12. I am not even going to start about Harry Potter…
13. I used The Sims to take revenge on all the people I didn't like
14. I go to bed at 9pm
Okay, I can put these into perspective, maybe these aren't too bad.
Do you have some geeky/dorky features?
PS: I am going to continue writing this post all day, 'cause I keep coming up with new things x)