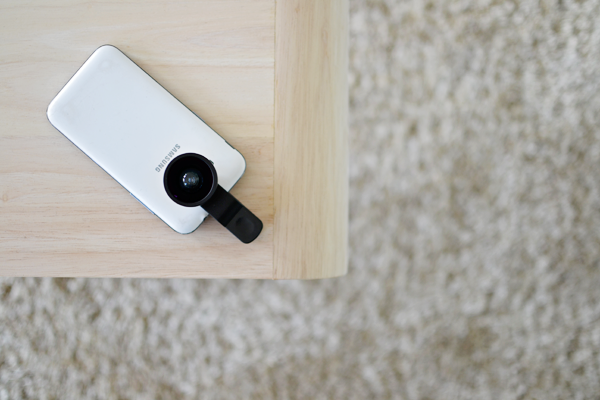 Exciting news! Exciting news! One week from today I am travelling to Barcelona! Well, if the announced airport strike doesn't throw a spanner in the works. I haven't done much planning yet, but I do know what will be the first thing that I pack: my Black eye wide angle lens. And here are the reasons.
On a rather rainy day I decided to get ahead and work on some blog content that I had planned. Our apartment has beautiful light, even in the worst weather conditions, and I made product shots for a few posts to come. The Black eye lenses do not only deliver great shots, they make for beautiful props too.
Ain't she pretty? The use is simple: you clip them over your back or front camera, position them rightly and then focus your photos as you normally would. It's universal and thus works on (almost) all smartphones! The lenses were designed to make it easier to shoot, edit and share on your phone. From all the different models I (obviously) choose a wide angle lens. I mainly pull the lens out when I am photographing cities, sites, landscapes and sunsets, but it's also a great tool to take group pictures without having to use a silly selfie-stick. That said, while selfie-sticks are all the rage right now, not many people walk around with a clip-on lens. This thingy makes for a great conversation starter!
As you can see the lens comes with a cap and mini-dust bag for save transportation. The branding on them is pretty fun, no? Just as with a DSLR lens, the glass is fragile and can scratch or break if you're not careful. Be sure to place it in a secure pocket or box before throwing it into your purse or pocket.
So it's pretty and we need to be careful, but does it work?
Yes, it does. It delivers what it says. Images are exactly as sharp and clear as they are without the lens, but the view is massive. There are many, many smartphones lenses on the market today and Black Eye lenses are definitely in the higher price category. If you just want to play around a little or experiment than there are cheaper options out there (but I have yet to come across one that is just as fine). I had a chance to test Black Eye's lenses at a PR office in November and promptly put one on my Christmas wishlist. Et voilà. On that note: Thanks mom and dad!
You probably want to see some results too. I took my wide angle lens out for a spin in Antwerp last month. To make sure I had plenty of objects to shoot I planned out a route past some of Antwerp's main tourist attractions. The grand market, Vleeshuys, cathedral, Vlaemynck gang, St-Anna tunnel and cruise terminal are conveniently located near each other. The pictures were taken on my Samsung phone, which has a 5px back camera. Editing was done in the Aviary app.
So, what are you thinking? I know that I can't wait to try out my lens in Barcelona next week. Keep an eye on my Instagram to see how that goes and if case you have had a Black Eye experience I'd love to see your photos too. I hope you guys enjoyed this post and I'll be back to my regular outfit posting next week.