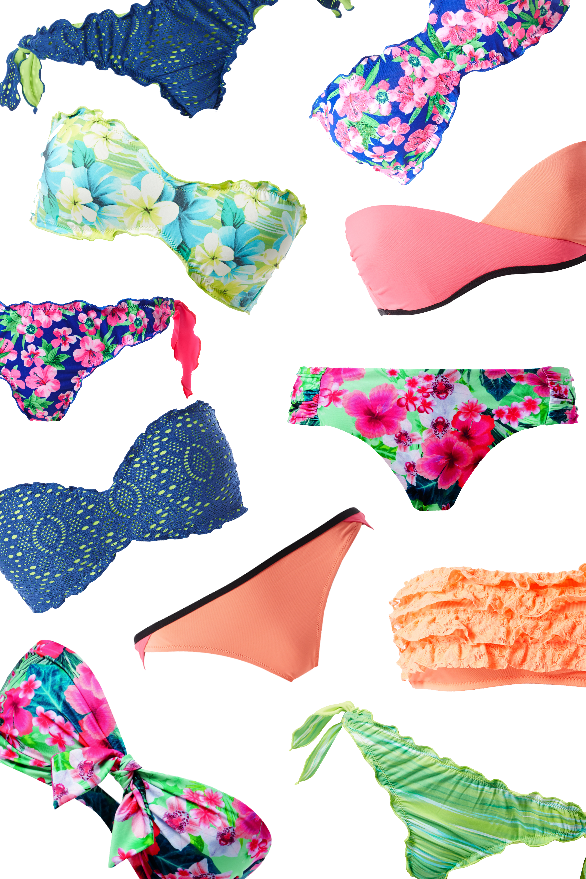 As I am working on this collage the rain is coming down with buckets. Even Rihanna's umbrella couldn't help to protect my summer dresses from getting soaking wet in this pouring rain. Mother Nature has been moody lately and has given us everything except bikini and Sangria weather. And although the air after a thunderstorm feels kind of exotic, I took to the internet to get back some of that summer-feeling.
I have not one single vacation planned for the summer, but still I find myself surfing the internet looking for the perfect bikini. Just in case. My search lead me to an old love:
Calzedonia
. I always knew Calzedonia for their good-quality yet affordable tights (as seen
here
) and only discovered their swimwear line when I was in Italy two summers ago. I tried on a cobalt blue number in their store in
Bologna
, but had already spent so much it wasn't reasonable to bring it home with me. At the time, we didn't have Calzedonia stores in Belgium (the closest to me was Düsseldorf I believe), but luckily times change. A store has opened on the Meir in Antwerp not too long ago and I have been wanting to go take a look at their SS15 swimwear collection. The bikini with the bright pink Hawaiian print is my absolute fave of the bunch and I'm also really loving the green-light blue one. Prices range between €30-40 for a set, but if I remember correctly everything can be bought separately as well meaning you can mix and match just as much as your heart desires. I'm all about that!So while I wait for the dark skies to clear up, I'm going to dream up Caribbean holidays or check airline sites for cheap tickets to the sun. I hope you guys enjoyed this post and if the weather allows I'll see you on Monday with a new outfit post!
note: this post is not sponsored, but part of the TGD overhaul.