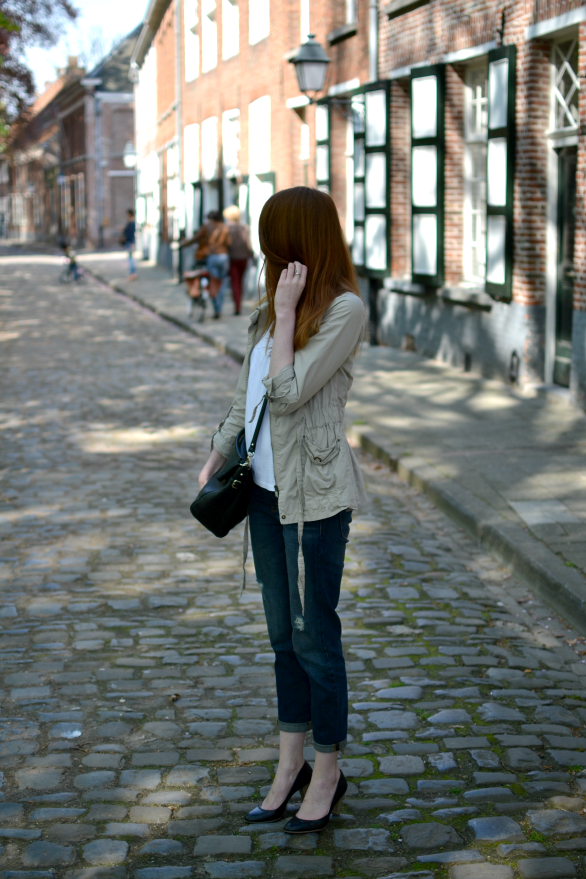 jeans: Gap • lace-trimmed top: Oysho • cargo jacket: C&A Clockhouse • heels: Cypres via Snoeys • cross-body bag: Kate Spade "Little Minka"
April is the month known for its changeable weather, and that weather influences the schedules of (style) bloggers is a well known fact. Add to that the fact that I'm currently on Spring break and you have the fail-roof recipe for a blogging disaster. When I am taken out of my daily life routine, I have no idea what day or date it is nor do I realize that I should prepare my new blog posts. And so a few empty slots in my archives are explained.
Not that much happened in life. Spring break is just a code word for study time and since I'm hopelessly behind on my school schedule, I spent the last two weeks glued to my desk and with my nose in the books. There are more exciting things to blog about! I'm actually quickly writing this short post in between two chapters of my social research methods syllabus, and am feeling self-inflicted pressure to get back to work. I've got to go my friends, I'll see you on Thursday!