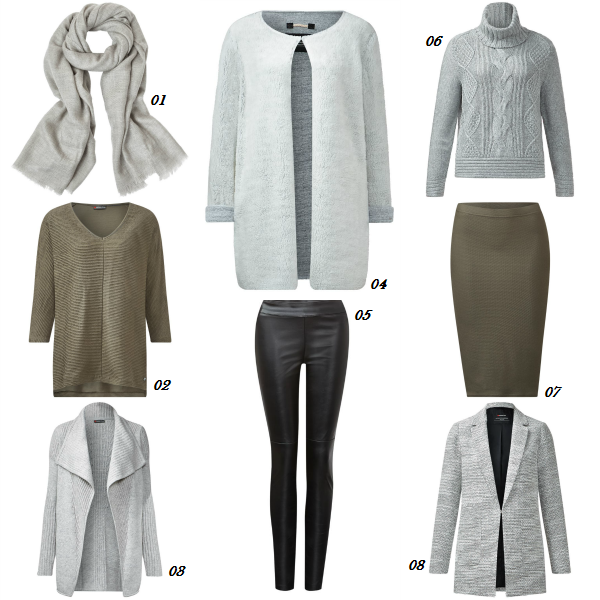 Street one? Not a store most fashionista's include on their quest to shop the hottest key pieces of the season. I must admit that I too thought of the brand as a bit dull and too mature. All of that changed, however, when my search for an affordable
Bernadette-style cardigan
led me inside their Antwerp shop. After Instagramming my newest wardrobe addition, I also discovered Street One's Instagram feed and learned they had a lot more in store than I ever knew. From fashionable
jogging bottoms
to a gorgeous beige
fall coat
, I've been hooked to their collection since a few months and today I would like to share my winter favorites with you!
01/
Oversized scarf
(€39.99) – I have thrown out most of my scarves after the last Winter. They had worn out and it was about time they got replaced. I already found the perfect beige scarf at C&A, but am still hunting for a cool grey one. This one from Street One is extra large, which means I could also use it as a blanket while studying in the library. #scarfgoals.
02/
Structured shirt
(€35.99) – Because gingers can never wear enough olive colored things.
03/
Ribbed open-front cardigan
(€69.99) – There's something about loose cardigans, and especially waterfall-front cardigans, that I have always liked. They're easy to wear, work well with my dresses and this grey shade pairs beautifully with both my black and tan tall boots. Why on earth haven't I bought one yet!?
04/
Softest cardigan-coat
(€50, on sale!) – Warning: don't buy this teddy bear soft coat if you do not like people coming into your personal zone. Everyone will want to touch you! It's so fluffy you might die.
05/
Pleather leggings
(€40, on sale!) – Because I've been wanting pleather pants since forever but am too much of a wuss to actually buy and wear a pair. They're badass, which is an attitude I love, but they're also daring which is something I am not enough.
06/
Cable knit roll-neck sweater
(€59.99) – This season, I'd like to find the perfect cream-white roll neck sweater, but so far this grey number from Street One was all I could find.
08/
Long bouclé blazer
(€99.99) – A boyfriend blazer to match the pleather pants. Because if anything adds to my badass-factor, it's blazers. This one is slightly longer, which makes it even more perfect IMHO.