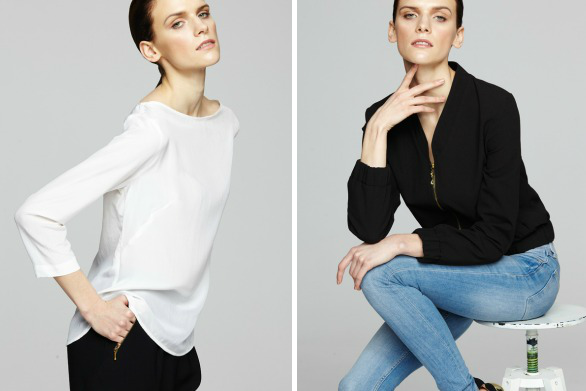 Every season during the press days I'll encounter one item that catches my heart. Always just one. Never more. This time around I fell truly madly deeply in love with the bright red shift dress from From Warsaw.
The items above were my faves. Obviously I had included the most amazing red shift dress. The jumpsuit definitely ranks second on my wishlist, but since I've only recently bought a black jumpsuit it might be better to invest in that gorgeous silk blouse. I've shared a photo of it in white, but in the showroom they had it in a soft yellow color which I also absolutely loved. The bomber I found in the webshop and I'm not sure if I could ever pull something like that off, but I like the style.
The items are, as I've mentioned, from From Warsaw debut collection (!) and are inspired by the simplicity and sophistication of Scandinavian design. The creative mind behind the brand is Belgian designer Daria Gora who gave me a short, but energetic presentation of her collection during my visit with Feinest Labels. The name of the brand refers to her roots in Poland, which is also where the clothes are being made. The fabrics she uses are very soft and supple, which makes them drape over your body is a beautiful and elegant way. I can't wait for the collection to come out this fall!